Hurricane Matthew photos 2016: These images show the storm's devastation so far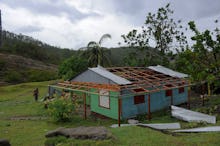 As Florida prepares for Hurricane Matthew's arrival, cities in Cuba and Haiti are already coping with the aftermath of what Reuters called the "fiercest Caribbean storm in nearly a decade." 
The hurricane made landfall in Les Anglais, Haiti, early Tuesday morning, bringing winds near 145 miles per hour and up to 40 inches of rain in certain parts of the country. These conditions resulted in the deaths of at least 69 people, according to Reuters. 
"We've already seen deaths. People who were out at sea. There are people who are missing. They are people who didn't respect the alerts. They've lost their lives," Interim Haitian President Jocelerme Privert said at a press conference reported on by CNN.
Images from the Associated Press show homes destroyed and entire villages devastated by the storm. Haitians have been excavating their belongings from the rubble and beginning the process of cleaning out the mud and detritus from their homes — should they still be standing.
Cuba also felt the effects of Hurricane Matthew on Tuesday, with winds up to 115 miles per hour. According to CNN, the storm could leave the country with more than 20 inches of rain, leaving Cubans with similar storm devastation.
Baracoa, a city near the eastern tip of Cuba, has seen some of the worst damage from the hurricane, with people sharing images and footage of collapsed roofs and homes completely gutted. 
On Wednesday, in an address at FEMA Headquarters, President Barack Obama urged those in the United States who are likely to experience the effects of the hurricane to take it seriously.
"...If you get an evacuation order, just remember that you can always rebuild, you can always repair property; you cannot restore a life if it is lost," Obama said. "And we want to make sure that we minimize any possible loss of life or risk to people in these areas."
Obama reminded Americans to also keep in mind those in the Caribbean who have already been dealt devastating blows by Hurricane Matthew, saying they're going to need "substantial help."
He said, "You can find out how you can help make life a little bit easier for people who didn't have a lot to begin with and now are really getting hammered by this storm."