The 'Star Wars' Han Solo spin-off's female lead frontrunners are refreshingly diverse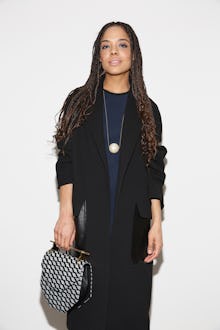 The ongoing search for a female lead in Star Wars' forthcoming Han Solo spin-off film has three frontrunners, and the shortlist has an important commonality: They're all women of color. According to a report from Variety, Mad Max: Fury Road's Zoe Kravitz, Creed's Tessa Thompson and Power Rangers' Naomi Scott are being considered for the mystery role, and the decision could be made in the next couple of weeks. 
Aside from their respective credentials — and what would be an inclusive casting in a galaxy far, far away — it also hints at the film taking a character from the Star Wars comic book universe. The Star Wars Marvel comics series, which is canonical (an important distinction since Disney made Star Wars' Expanded Universe non-canon after acquiring Lucasfilm), features a new character, Sana Starros, as a love interest for the bounty hunter. At one point, she even poses as Solo's wife for a scam. 
It's still unconfirmed if the film is trying to find an actor for this specific character. But the fact that character is black, and the casting process for the female lead has ostensibly whittled down to three women of color, hasn't gone unnoticed on the Twitterverse.
Whether Starros appears in the film remains to be seen, but Disney is rounding up impressive talent to join its new Solo actor, Alden Ehrenreich. The Variety report added that Donald Glover is being considered as a young Lando Calrissian — and the internet is OK with that, too. 
The still-untitled Han Solo spin-off makes its way to theaters May 25, 2018.