Category 4 hurricane: What to know after Hurricane Matthew strengthens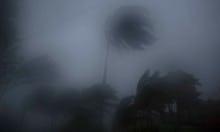 Hurricane Matthew is barreling toward the United States with potentially historic implications. The Category 3 storm, which is expected to strengthen to Category 4 by the time it reaches Florida, has forced at least 1.5 million people to evacuate the south Atlantic coastal areas prior to its forecast landfall on Thursday night. When it's all said and done, it could be Florida's "biggest evacuation ever." 
Matthew has already left behind a trail of devastation in the Caribbean, and Florida Gov. Rick Scott warned its impact will be "catastrophic." At least 69 deaths have been attributed to the storm, with more expected as reports pour in from the Bahamas. "Do not surf. Do not go on the beach. This will kill you," Gov. Scott said at a press conference on Thursday morning. 
With life-threatening conditions expected throughout Florida, Georgia and South Carolina, it's important to know what exactly a "Category 4" storm means. 
What to know about Category 4 hurricanes
Sustained winds of at least 145 mph: A Category 4 hurricane has winds between 131 and 155 mph. Hurricane Matthew was originally expected to reach winds of 130 mph, making it a Category 3 storm, but forecasters say it has strengthened prior to Florida landfall. Nine feet storm surges are anticipated, as well. 
According to the National Hurricane Center, a Category 4 storm of Matthew's pedigree implies the following:
Catastrophic damage will occur: Well-built framed homes can sustain severe damage with loss of most of the roof structure and/or some exterior walls. Most trees will be snapped or uprooted and power poles downed. Fallen trees and power poles will isolate residential areas. Power outages will last weeks to possibly months. Most of the area will be uninhabitable for weeks or months. 
That being said, those living in the southeastern coastal areas of the United States should take extreme precaution and evacuate the region as soon as possible. 
A complete list of shelters currently available to evacuees can be found at FloridaDistaster.org.