'Black-ish' season 3, episode 3 recap: 4 more years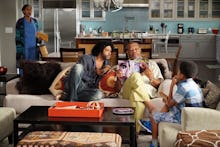 Within one second of Black-ish's decision to open the episode with Boyz II Men's "It's So Hard to Say Goodbye to Yesterday" set to a slideshow of "The Unblackening," it's apparent that this is yet another over-the-top Dre (Anthony Anderson) thing. He took a sick day from work to make this slideshow, and it's this less-than-a-minute long cold open that proves, while Black-ish has a format, it's not all the same every week. This week's plot, centered on Junior's high school election, proves that.
It may seem a little crazy that I'm investing real time in a high school election, but the world's losing one black president and I want to make sure to give it another. The future of our entire race rests on Junior.
It certainly seems absurd. But this is the easiest way for Black-ish not to have to take a side in the current election while also finding something for Dre to obsessively latch onto. That's smart, but so far, Black-ish's third season is going all-in on super invested, out-of-control Dre, which typically needs to be balanced out to prevent fatigue. The Boyz II Men-based slideshow is just funny (especially the idea that he first was going to use "I'll Make Love To You"), but that's what makes for an especially aggressively absurd baseline.
"40 Acres and a Vote" both makes the audience think and nails several legitimate election time discussions (especially among African-Americans), which isn't necessarily the case with election-themed episodes. For the exact opposite effect, please see the season nine episode of 7th Heaven titled "Vote." And then you can go back to avoiding watching 7th Heaven in 2016.
The election theme does allow for a few comments on the real-world election — for example, of course Rainbow's (Tracee Ellis Ross) hipster brother Johan (Daveed Diggs) is Bernie or Bust. Thank god for Michelle Obama's way with words.
But the main plot is all about Junior (Marcus Scribner) running for student body president. It's the ultimate 'what you see is what you get' plot, from his campaign slogan — "Friend to some, acquaintance to many, unknown to most" — to him momentarily getting Hillaried, pantsuit and all. Dre's attempt to make over Junior (as "they are coming for our coolness") could easily feel like a basic Can't Buy Me Love/Love Don't Cost a Thing riff, but having it undercut by Junior's inherent awkwardness is even better.
The Stevens and Lido story got especially cartoonish last season, but this season appears to be doubling down on the more sinister side of the office. It's not even just because of the introduction of Mr. Stevens' oft-talked about serial killer son Connor (Nelson Franklin); the us-versus-them of Dre and Charlie (Deon Cole) versus the white staff is even more pronounced now, to the point where the latter has no problem talking about President Barack Obama being a "foreign-born Muslim" who "also let Bin Laden sleep in the Lincoln bedroom." Out loud. In mixed company.
Ruby (Jenifer Lewis) not being anti-voting is a pleasant surprise, but the show hits the nail right on the head by having her vote be for "whoever the Democrat is," despite Diane's barb about her being "ignorant" to facts and especially despite how much her own ideals line up with far-right mentalities. The plot is all in service of the punchline about her obviously being more of a Donald Trump supporter (and possibly being Trump herself), and Ruby's mind still isn't exactly changed by the end of it, but it doesn't need to be. 
This plot is based especially out of reality, as hypocritical and uninformed as Ruby comes across. Plus, it blesses us all with this line-reading from Jenifer Lewis: "God, Idris, alimony. My priorities are just fine, darling. Lord, why is this child testing me today?"
"40 Acres and a Vote" is a pretty busy episode of Black-ish, to the point where even Johan, Jack and Pops just sitting on the couch and complaining about their voting woes still feels like doing something. It hits quite a few hot topic beats in its 20-plus minutes and brings back Owl City's "Fireflies" for the perfect awkward Junior moment. Four more years! Four more years!
The next episode of Black-ish airs Wednesday at 9:30 p.m. on ABC.