British 'Vogue' shows commitment to "realness" with a spread full of thin, white models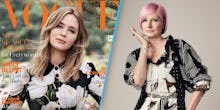 Since British Vogue announced its November issue would be its "Real Issue," there have been problems. 
Though the intentions might have been well-meaning (to cast a variety of different women in the magazine who are not professional models) many immediately jumped on the fact that Vogue U.K. was trying to get away with the term "real women" at all, since all women are, you know, real people. 
"This is an issue where none of the fashion is shot on models; the month's fashion and feature subjects are looked at with a "real" filter; and the beauty team asks the question, 'What is real anyway?" Vogue U.K. wrote. 
And turns out, that's an entire issue on its own. What makes female models not real? What is a real woman anyway?
"Why does the adjective 'real' belong in this title at all?" the Fashion Spot asked before the issue even dropped on Thursday. "Are not all people — models and non-models, skinny, curvy, black, white, Asian, mixed, transgender, cis, etc. — 'real'? The point of inclusion is to level the playing field, not perpetuate false categories and, in so doing, imply that one group is somehow inferior to the other." 
And after Mic obtained a copy of the issue, which has thin and white actress Emily Blunt on the cover, we saw there are far more issues than just their use of the term "real women." Namely, a huge majority of the "real women," or non-models, they used are thin and white. 
For example, in story in the magazine titled "Bathroom Confidential," which asks businesswomen about their beauty rituals, all four of the women shown are thin and white. 
In a spread called "House Style," the "real women" are posed in some of the season's best designer looks. An architectural historian wears a Max Mara jumpsuit. A ballerina wears Armani. A director wears Chanel. 
The women whom they chose are nearly entirely white, save for Shumi Bose, the architectural historian, Phoebe Collings-James, an artist, and Fatima Bhutto, a writer. In a spread involving 19 different supposedly "real" women, there are no women above a size 12. 
Then, in another spread called "Closet Harmony," a writer speaks with seven different women (who are also not professional models) about what they wear. Of the seven women profiled, only one is a woman of color, Yasmin Sarwar, who is a college director. She is also the only woman who is above a size 6.
But there are some high points in terms of diversity in this issue.  
A more interesting story is one called "Tunnel Vision," and the story profiles five women who have been working on Crossrail, a new train system in England. In this group of five women, two are women of color and they appear to be various different sizes and heights. 
And in a story titled "Altered Images," three different women tell British Vogue about how their wardrobes changed after a life-changing experience. In this spread, there is Melanie Reid, a journalist who uses a wheelchair. Then here's Charlene Rodrigues-Batchelor, another journalist, who happens to be a woman of color. But the third woman they speak to is a former model, who is thin and white. 
Other than those few spreads, the magazine is much like it always has been, highlighting models and filmmakers who are all thin white women. 
What's a shame is that it appears as though the editor in chief, Alexandra Shulman, who has been a vocal advocate for diversity in fashion, was earnestly attempting to highlight accomplished, interesting women, which is an idea many got behind before the issue landed on newsstands. 
"Fashion should be something that everybody — no matter their age, size, creed, profession — should enjoy," Shulman wrote in the issue's editor's letter. "And it is just as exciting, and certainly as interesting, to see fashion worn by people who have nothing to do with the industry and whose daily lives are far removed from it." 
But instead, the "real women" slogan works to their disadvantage. By advertising this issue as the "real issue," there was an expectation that the women shown would be representative of women who exist in the world in terms of race and size. Instead, we still got an edited version of who can be in the pages of something as treasured as Vogue. 
In truth, a more accurate title for the issue would be the, "Non-model issue."
In fashion in general "real women" is a sticky term. Just recently, J. Crew's New York Fashion Week show boasted about having "real people" model its clothing, but ended up casting zero plus-size people. In September 2015, Redbook put six non-models on their cover for a "Real Women, Real Style Tips" issue. Aerie, American Eagle's loungewear offshoot, also champions the "real" label. But the problem is that it separates women into two groups: the unreal (meaning models) and the real. 
So what does this really say about Vogue U.K.? 
It says that despite its greatest efforts to embrace women who aren't models and perhaps don't fit the model norm, they still ended up picking women who were overwhelming thin and white. They used the label "real women," but still appeared to make a greater effort to cast women who are thin and easy to dress than they did casting women of color and women who are above a size 6, which would be more representative of how our world looks now. And my, that's troubling.