Shady sugar: Big Soda might be paying dietitians to tweet against the soda tax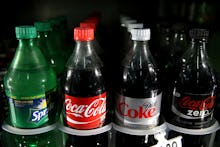 This October, many dietitians have taken to Twitter to weigh in on the controversial soda tax on the ballot in Oakland, California, this November. 
Some have ambiguous disclosures like #partner, #client and #advisor. Smells fishy, no? 
On Coca-Cola's website, the company lists health professionals and scientific experts that Coke pays for collaboration and consultation. Several of those experts recently tweeted articles that oppose soda taxes, with several enigmatic partnership disclosures, Ninjas for Health, a public health advocacy group, noted in a post on Medium. 
When a health professional has ties to a multinational corporation that makes soda and has a clear interest in opposing a soda tax, are they really presenting an unbiased perspective? 
Here's a sampling of health experts who tweeted opposition to soda tax: 
Pat Baird, Kim Galeaz, Carol Berg Sloan and Robyn Flipse are all compensated by Coca-Cola, according to the company site. Rosanne Rust partners with the American Beverage Association, an industry lobbying group, according to her Twitter bio and the Rust Nutrition website, and Robyn Flipse is also a consultant for the "food and beverage industry" according to her Twitter bio. 
Based on the #advisor in her tweet, Amy Myrdal Miller appears to be in some sort of partnership with Let's Clear It Up, a site created by the American Beverage Association that aims to present "the facts" on soda taxes. 
None of these individuals responded to Mic's request for comment. 
Kevin Keane, senior vice president, policy and public affairs for the American Beverage Association, emailed the following statement to Mic: 
"The small group of nutritionists and dietitians we work with follow stringent standards for transparency. Importantly, these consultants engage transparently in social and digital media completely at their own discretion, in their preferred manner and with their own voice. They receive support for their time, not their opinion. We understand the high bar our members have set and their concerns that those are being met. In the interest of ensuring we meet or exceed the high standards of transparency our members expect, we are suspending the use of these experts in social and digital media engagement pending a review. In addition, we will list and disclose on our website payments to third party health experts moving forward."
"We have many members, among them are some of the largest beverage companies like Pepsi, Coke and Dr. Pepper," an ABA spokesperson who asked not to be identified, clarified in an interview, noting that the aforementioned review process is starting immediately.  
What does "support for their time" mean? The spokesperson stated it's "time to express their opinion about events and issues of the week and month. Something that's timely. Because it takes time to do that stuff. These dietitians, they're small businesswomen and some have families." (Not all registered dietitians are women.)
"Their opinions are their own, they write about what they want," the spokesperson continued. "They probably couldn't do it unless they were compensated." 
The ABA has spent more than $747,000 in an effort to sway voters who will vote on a soda tax in Oakland this November, the East Bay Express reported. 
"No health professional or organization should be accepting funding from the soda industry. Period." — Kyle Pfister, CEO and founder of Ninjas for Health
That's a paltry sum compared to the amount of money Coke spends on dietitians and other nutrition experts, though. From 2010 to 2015, Coke dropped a cool $2.3 million on "travel grants, related expenses and professional fees" for these experts.
"No health professional or organization should be accepting funding from the soda industry. Period," Kyle Pfister, CEO and founder of Ninjas for Health said in an email, noting the soda industry is using the same tactics that the tobacco industry used. 
Paying dietitians and influencing scientific studies "confuse the public, obfuscate science, buy silence from health organizations, target vulnerable populations, and slow public will for policy solutions to end the diabetes and obesity epidemics," Pfister said. 
He's not alone; many health professionals are against the influence of multinational corporations who primarily sell junk foods like soda. The Dietitians for Professional Integrity, an advocacy group for ethical and responsible sponsorship of dietitians, notes the following on its site:
"We strongly believe that 'sitting at the table' and working with multi-national corporations that sell predominantly junk food is contradictory to our mission as dietitians."
While a sponsored tweet here and there seems innocent enough, things get seriously messy when the proverbial church and state of nutrition mix. In 2015, the New York Times revealed that Coca-Cola funded scientists who attempted to offer up exercise as a solution to obesity — it's not a solution — in order to subtly shift the blame away from soda.  
Here's an example of a worst-case scenario playing out: A recent study revealed that in the 1960s, a group of Harvard nutritionists were paid by a sugar industry trade group to downplay sugar's negative impact on health and point fingers at fat. The nutritionists research helped to pave the way for nutritional advice for years to come: The truth didn't come out until 50 years after the fact.
Luckily, in the case of Coke, it appears consumers aren't getting swayed by cryptic tweets or other sneaky strategies Big Soda is employing.  
Soda sales are down — soda consumption in the U.S. was at a 30-year low in March 2016, Forbes reported. Plus, primary reports from some of the first soda taxes in the U.S. demonstrate the legislation's efficacy in curbing soda consumption. In, Berkeley, California, soda consumption dropped 20% in some neighborhoods after a soda tax went into effect in 2015, NPR reported.  
Why would a professional, whose goal is to help people live their healthiest lives, agree to partner with companies that make products that contribute to weight gain and increased risk for a number of diseases? 
Money talks, but obesity, diabetes and heart disease kill. 
October 6, 2016, 6:15 p.m.: This article has been updated.