Hurricane Matthew Jacksonville: What residents need to know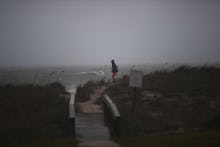 Hurricane Matthew is hurtling toward Florida, projected to hit the eastern coast on Thursday night, according to the Weather Channel, and potentially escalating to a Category 5 hurricane, up from its current Category 4 status. 
Bringing with it the threat of power outages, severe flooding and dangerously strong winds, Hurricane Matthew could be the most serious storm Florida's east coast has seen since 1992's Hurricane Andrew. 
"This is serious," Florida Gov. Rick Scott said of the storm Thursday morning. "Don't take a chance. A small movement [of the storm] could mean a lot. That's why we have to prepare for a direct hit. So again, if you need to evacuate and you haven't, evacuate."
Where evacuations have been issued so far:
Jacksonville Mayor Lenny Curry declared a state of emergency on Wednesday, urging residents to begin preparations for Hurricane Matthew. He ordered the evacuation of residents of Jacksonville Beach, Atlantic Beach and Neptune Beach, along with low-lying evacuation zones A/B, in Jacksonville/Duval county. A full list of evacuation sites is available here.
Emergency contact information:
• The Florida Emergency Information Line: 1-800-342-3557
• A list of shelters, as they open, is available here. Find the nearest shelter here.
• Updates from the Florida Public Radio Emergency Network can be accessed through the organization's app.
• @FLSERT and @FLGovScott will tweet live updates.
More emergency information is available at FloridaDisaster.org.