Chase Sapphire Reserve vs. American Express Platinum: Which is better?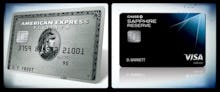 The Chase Sapphire Reserve has been out for only two months and has already captivated credit card-obsessives: Among other features, its generous pile of reward points has made the attractively hefty metal card like cat-nip for millennials especially.
Now — with its high, $450 annual fee and approval requirements and limits (you need to be approved for a $10,000 credit line for one) — the Reserve isn't for everyone. 
But that might be a different story under certain circumstances: if your credit is excellent, you always pay your bill on time, you're a big traveler and you tend to spend a lot on your credit card every month.
If that describes you, you might be considering either the Reserve or its rival top-tier card, American Express Platinum.
To help you decide, Mic dug into the fine print for the two cards — matching them head-to-head to see how they stack up on fees, perks and ongoing value to the user.
Here's how the two premium cards, Chase Sapphire Reserve vs. American Express Platinum, compare.
Chase Sapphire Reserve vs. American Express Platinum: Which offers more points?
One reason points-lovers are drooling with excitement over the Chase Sapphire Reserve is the eye-popping 100,000 bonus points that come when you spend $4,000 in the first three months. That bonus is valued at $1,500, according to Chase. 
The American Express Platinum has bonus points too: The Platinum card offers 40,000 points for those who charge $3,000 in the first three months. 
But the Reserve wins this contest easily, as it offers more bonus points than the Platinum card.
Both cards offer 1 point for every $1 spent on eligible purchases (goods or services minus returns and other credits, not including service fees, interest charges, balance transfers, cash advances, purchases of travelers checks, or other purchases of cash equivalents) on the card. A new points bonus on the Platinum card adds 5 points for flight purchases — an offer that competes directly with the 3 points offered by the Sapphire Reserve. 
Then again, the Platinum offers the extra points only on flight purchases, while the Reserve offers the extra points on travel (including airfare, hotels, taxis and trains) and dining (from casual to fine dining).
Chase Sapphire Reserve vs. American Express Platinum: Which has a lower fee?
Both cards have a gobsmacking $450 annual fee, but — arguably — a chunk of this expense is offset by the generous travelers' credits both cards offer. 
The Chase card offers $300 in reimbursements a year on travel purchases, including airfare and hotels, charged to the card. That's more than the AmEx card offers: $200, limited to airline fees. 
Both cards also reimburse you for the application fees for Global Entry ($100) or TSA PreCheck ($85) once every four or five years, and both cards also waive foreign fees.
A key caveat: These cards are built for regular travelers — so if you have a slow travel year with either card, the annual fee will be hard to recoup.
Chase Sapphire Reserve vs. American Express Platinum: Which has a lower APR?
The Chase Sapphire Reserve comes with an annual APR of 16.24% to 23.24% depending on your credit. Balance transfer rates are the same, but the cash advance APR is even higher: 25.24%. 
If there's any chance you won't be paying your card on time, these high APRs should make you run away — other cards offer much lower rates.
The American Express Platinum has no annual interest rate because it is a charge card, not a credit card: Charge cards have no credit limit, and the balance is due at the end of each month. 
But with the Platinum card, like other charge cards, if you do not pay in full each month, you incur a penalty in of 2.99% of your balance, which is a functionally a huge interest rate when annualized — it can end up being like 36% or worse, over a year.
Chase Sapphire Reserve vs. American Express Platinum: Which has better perks?
When it comes to perks, it's a bit of a draw between the AmEx and Chase cards.
On one hand, the AmEx Platinum card offers Hilton HHonors Gold Status, with benefits at Hilton Hotels and bonus point offers. Members can also upgrade to Gold status in the Starwood Preferred Guest program without any stay requirements. 
While traveling, Platinum cardholders get access to more than 900 airport lounges, including the Centurion Lounges in several major airports. Members also earn enrollment in Priority Pass Select, which confers entry to 950 airport lounges around the world. 
In addition, there are upgrades and benefits for AmEx holders lodging at hotels booked through Platinum Card Travel Service or the American Express Hotel Collection.
As for the Chase Sapphire Reserve, a huge perk is that points redeemed for travel booked through Chase Ultimate Rewards are worth 50% more than if redeemed for cash. 
When you redeem your Chase Sapphire Reserve Card points for cash, each point is worth 1 cent. If you have 100 points, you'll get $1 in redemption value. But each point you redeem for travel booked through the card is worth 1 1/2 cents. Now your 100 points will get you $1.50 in redemption value. 
For example, 100,000 points are worth $1,500 toward travel, or $1,000 when redeemed for cash. 
These points can be used — one-for-one — in some of the biggest airline loyalty programs (including British Airways Executive Club, United MileagePlus, Southwest Airlines Rapid Rewards, Virgin Atlantic Flying Club, Korean Air Skypass, Singapore Airlines KrisFlyer) and hotel loyalty programs (including Hyatt Gold Passport, IHG Rewards Club, Marriott Rewards, Ritz Carlton Rewards).
While traveling you have access to the more than 900 airport lounges world wide with a Priority Pass Select membership.
Chase Sapphire Reserve vs. American Express Platinum: Which is better overall?
Both cards have a high bar to entry and a steep fee to pay: $450 a year is no joke. But frequent travelers will make their money back and then reap rewards on both cards.
One big question to consider is whether you want a true credit card or prefer a charge card — and the benefits it confers on your credit. Charge cards like the American Express Platinum offer a way to improve your credit score without the potential downside of raising your utilization score. In other words, they are arguably better for improving your credit — as long as you use them responsibly and don't end up triggering that 2.99% penalty.
Stepping back: The American Express Platinum is an elite card with clear and specific rewards — you know what you're going to get. But, relatively speaking, the rewards are limited to particular partners. Plus, there's the pesky problem that AmEx cards are not as widely accepted as Visa or MasterCard. 
So, if you're in it for the rewards, the Chase card is probably the way to go.
The points go further, you get more of them and the perks offered by the Chase Sapphire Reserve are more open-ended and flexible.
October 11, 2016, 12:40 p.m.: This story has been updated.