Presidential debate Sunday: What to expect in the Oct. 9 debate between Trump and Clinton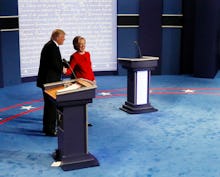 The first presidential debate between Hillary Clinton and Donald Trump was the most-watched in United States history, with an estimated 84 million viewers, according to Nielsen ratings.
Sunday night's second debate between the two rivals will likely be just as huge. The debate, at Washington University in St. Louis, will be different, though. Instead of standing onstage behind podiums, the candidates will square off in a more intimate town hall setting. They will also take questions from the audience on a wide range of topics.
The Open Debate Coalition is soliciting questions from the public at presidentialopenquestions.com. The top questions so far are about gun control, Social Security, Citizens United, health care and enacting term limits for Supreme Court justices.
The candidates will also take questions from two veteran journalists, CNN's Anderson Cooper and ABC News' Martha Raddatz, who are co-moderating the debate.
If the last debate is any indication, there will be plenty of attacks and interruptions — and fact-checking. Going into Sunday, the damning 2005 video, which leaked Friday, of Trump making lascivious comments about women looms large over the election, and Trump will likely have to face questions about it during the debate. 
Here's what else to expect:
Donald Trump and Russia
During the first debate, Clinton attacked Trump for asking Russians to hack into her emails. Trump shot back:
I don't think anybody knows that it was Russia that broke into the DNC. She's saying Russia, Russia, Russia. I don't — maybe it was. I mean, it could be Russia, but it could also be China, it could also be lots of other people. It also could be somebody sitting on their bed who weighs 400 pounds, OK?
Russia came up again during the vice presidential debate between Mike Pence and Tim Kaine this week. Kaine hit Pence for Trump's praise of Russian President Vladimir Putin. But Pence backed away from his running mate, calling Putin a "small and bullying leader."
Hillary Clinton's "stamina"
Trump consistently brings up Clinton's health on the campaign trail and recently amped up his attacks after she was diagnosed with pneumonia and had to leave a 9/11 memorial ceremony early.
"Here's a woman, she's supposed to fight all these different things and she can't make it 15 feet to her car. Give me a break," Trump said at a Pennsylvania rally just last week. "Folks, we need stamina. We need energy."
The issue came up during the first debate, and Clinton hit back with this zinger:
As soon as he travels to 112 countries and negotiates a peace deal, a cease-fire, a release of dissidents and opening of new opportunities and nations around the world or even spends 11 hours testifying in front of a congressional committee, he can talk to me about stamina.
Will Trump attack Bill Clinton's sex scandals?
During the first debate, Clinton attacked Trump on his treatment of women. Afterward, Trump told reporters he was going to bring up the sex scandals about her husband, former President Bill Clinton, but he held back.
At that same rally in Pennsylvania last week, Trump doubled down.
"Hillary Clinton's only loyalty is to her financial contributors and to herself," he said. "I don't even think she's loyal to Bill, if you want to know the truth. And really, folks, why should she be, why should she be?"
But this week, Trump told the New York Post's Page Six that he will not bring up Bill Clinton during Sunday night's debate. "I want to win this election on my policies for the future, not on Bill Clinton's past," he said.
Trump's temperament
Trump bragged during the last debate that his "strongest asset, maybe by far, is my temperament. I have a winning temperament."  
Clinton is sure to bring up Trump's recent overnight Twitter tirade against former Miss Universe Alicia Machado.
The feud continued on Twitter with Trump saying at least he was awake.
Trump's taxes
Both candidates talked about their tax plans during the last debate, but one of the most dramatic moments came when Trump was asked about not releasing his taxes. Clinton hinted that it was because he hasn't paid federal taxes in years, to which Trump responded, "That makes me smart."
That comment dominated the news cycle for days, but then the New York Times obtained his 1995 tax returns showing he may not have paid taxes for nearly two decades. The issue clearly isn't going away, and Clinton is sure to bring this up during the next debate.
Defending Mike Pence
While Pence may have won the vice presidential debate, according to a CNN instant poll, he fared poorly at defending the comments and proposals of his running mate.
Clinton pounced on Pence after Tuesday's debate.
Sunday night's 90-minute debate begins at 9 p.m. Eastern.
Mic has ongoing presidential coverage. Please follow our main election hub as well as coverage of Donald Trump and Hillary Clinton.