Hurricane Matthew Trajectory: Maps show where the storm is headed next and when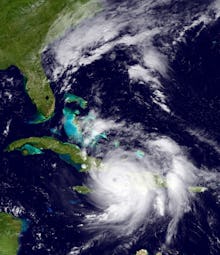 Hurricane Matthew, a massive Category 4 storm, is currently headed for Florida, as much of the southeastern U.S. prepares for impact. Hurricane Matthew has already left more than 100 dead after hitting Haiti and the Bahamas. Current projections have the storm bearing down on the east coast of Florida and potentially making landfall early Friday morning, sometime around 2 a.m Eastern, according to ABC News.
As of Thursday, the storm is predicted to track up the Florida coast on Friday, and its effects will likely be felt along the Georgia coast and in South Carolina as well as the weekend begins. 
By Monday morning, Matthew is predicted to head back out into the Atlantic, although some predictions suggest Matthew could loop around and come back to hit Florida a second time, the Orlando Sentinel reported Wednesday — but that scenario remains unlikely.
It's certain, however, that Matthew poses an imminent threat to much of Florida and the southeastern U.S. According to ABC News, governors in four states — Florida, Georgia, North Carolina and South Carolina — have all declared states of emergency, and more than a million Floridians are under evacuation orders.
According to an advisory from the National Hurricane Center in Miami, hurricane conditions are expected to hit Florida late Thursday and may arrive in Georgia and South Carolina by early Saturday. Dangerous storm surges, flooding and strong winds are predicted.
Officials in the affected states aren't downplaying the storm's seriousness. "Time's running out. Leave. There's no excuses," Florida Gov. Rick Scott said at a press conference Thursday morning, ABC News reported. "This is life and death."