NJ Transit Crash Update: New Jersey train was going twice the speed limit before impact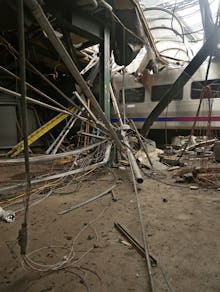 The New Jersey Transit train that crashed in Hoboken, New Jersey, on Sept. 29 was traveling at double the speed limit. According to a tweet from the Associated Press, investigators believe the brakes were applied "just before impact." 
According to the AP, federal investigators with the National Transportation Safety Board said Thursday that the train was going 21 mph, over twice the 10-mph limit for Hoboken Terminal. They said that the train had been traveling at 8 mph up until about 30 seconds before the crash, when it began speeding up. The engineer activated the emergency brake less than one second before impact, according to the AP. 
"The NTSB has not determined probable cause and cautions against drawing conclusions from these facts alone," a statement from the board said, according to the Asbury Park Press.  
NJ Transit train 1614 was traveling from Spring Valley, New Jersey, on the Pascack Valley Line when it hit the Hoboken train station, killing one person and injuring more than 100. A commuter in the station at the time reported that the train came "through the building," cracking the ceiling.
According to the AP, it could be at least a year before investigators have their final report on the incident ready. In response to the crash, New Jersey implemented a new rule that requires conductors to ride along with engineers on all trains pulling into the Hoboken Terminal and Atlantic City station, NJ.com reported. 
But conductors — who typically play a customer-facing role, taking tickets, making sure passengers are abiding rules of the railroad and completing inspections — have not been told what they should do if the engineer is speeding or otherwise breaking the rules, according to NJ.com. 
The AP reported that the engineer at the helm during last week's crash does not remember the incident, and believed the train to be going the speed limit. 
Oct. 6, 2016, 4:53 p.m.: This story has been updated.