iPhone 7 vs. Google Pixel: Deciding which new smartphone is right for you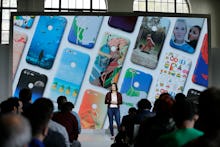 Google made waves on Tuesday with the introduction of Pixel — a new smartphone equipped with a personal assistant, powerful camera and unlimited photo storage. Many see it as the iPhone 7's direct competitor, and rightly so. Both devices share similar features and comparable specs, but which comes out on top? Here's how they stack up:
iPhone 7 vs. Google Pixel: Design
Perhaps the most obvious difference is the Pixel's inclusion of a 3.5mm headphone jack. Apple infamously nixed it on the iPhone 7 and appears invested in the Lightning audio port going forward. Google has decided to retain the feature, offering a compelling alternative for those looking for a premium smartphone with an aux input. 
Other than that, the Google Pixel looks fairly similar to the iPhone. Both have similar shapes, fingerprint scanners, a variety of colors and offer a larger, deluxe model with a 5.5 inch screen (Pixel XL and iPhone 7 Plus). A minor difference can be found in the standard models — Google's is five inches; Apple's is 4.7. 
iPhone 7 vs. Google Pixel: Display
The iPhone 7 boasts a 25% brighter screen thanks to Retina HD display, but it's not enough to count out Google's Pixel with 1080 x 1920 resolution. That's 424 pixel-per-inch density compared to the iPhone 7's 326ppi. Still, the iPhone 7 isn't a push over with its wide color gamut, and reviews of the device's display are highly favorable. We'll have to wait until the Pixel arrives before we can truly visualize the difference.
Apple unequivocally beats Google in terms of display functionality with the iPhone 7's 3D touch. The feature allows users to access multiple functions without going through repetitive menus. It may not be a game changer, but it's certainly a welcome addition.
iPhone 7 vs. Google Pixel: Hardware 
The iPhone 7's A10 Fusion core has been described as the "fastest smartphone chip ever." Benchmark tests show it outperforms rival Samsung Galaxy S7's processor, but Apple has new competition now. The Google Pixel flaunts a Snapdragon 821 chip, which is quite powerful. But its no match for the A10 Fusion — the iPhone 7 significantly defeats the Pixel in terms of pure hardware performance.
While Google's Pixel may not be able to keep up, it does offer a separate piece of hardware that Apple does not have — virtual reality. Daydream VR will be compatible with the Pixel when it arrives in November. So far, early reception has been good.
iPhone 7 vs. Google Pixel: Software
iOS has always been known for running some of the cleanest and most efficient software around, but Google's new platform is getting rave reviews. "Having Google Assistant built-in elevates this software from good to great and this could seal the deal," Wired wrote. The assistant works in conjunction with Android Nougat software, which "uses machine learning to help you plan your life." Perhaps it's no coincidence that the software is earning comparisons to iOS. 
Still, Apple has a pretty terrific assistant of its own in Siri, and 3D Touch really simplifies much of the phone's functionality. This one might come down to pure personal preference. 
iPhone 7 vs. Google Pixel: Camera
Google has boldly claimed that the Pixel has the "best smartphone camera ever" — a claim that Apple made just one month earlier. Both devices are exceptional. Google's has slightly more megapixels (12.3 vs. 12) but Apple boasts a slightly wider aperture, which lets in more light. 
However, each smartphone has one distinct advantage. If we're comparing the iPhone 7 Plus against the Pixel XL, the iPhone 7 takes the cake thanks to its extra lens with optical zoom and Portrait Mode, which creates a DSLR-esque depth of field blur. 
Google, however, offers unlimited photo and video storage on both the Pixel and Pixel XL. Even if its camera is slightly less powerful, the promise of infinite storage gives Google a major advantage. We'll have to wait and see how the cameras visually compare once the Pixel releases and more side-to-side test shots are available.
iPhone 7 vs. Google Pixel: Summary
There's no doubt about it — Google has created a legitimate iPhone competitor complete with unique software, virtual reality functionality and comparable specs. But at the end of the day, software is likely to be the biggest decider. Google seems to be mimicking iOS in some regards and those who already own iPhones might not see much reason to switch when the platforms are similar. The choice will be more clear once the Pixel arrives and everyday consumers are able to weigh in. But for now, it comes down to one question — Android or iOS?