Presidential debate live: Watch Hillary Clinton and Donald Trump on Sunday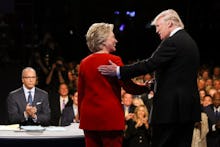 While the vice presidential debate was the least watched since 2000, the first showdown between Hillary Clinton and Donald Trump drew the most viewers of any presidential debate. This Sunday, Trump and Clinton will again go on the offensive. Clinton aims to solidify her lead. Trump must keep himself from slipping further in the polls. 
Here's how to watch the two presidential candidates spar on Sunday night. 
Where to watch the debate
According to the Commission on Presidential Debates, many media outlets and social media platforms will offer a live stream of the debate. These include: ABC News, Buzzfeed News, CBS News, CNN, C-SPAN, the Daily Caller, Facebook, Fox News, Hulu, Huffington Post, NBC, PBS, Politico, Telemundo, the Wall Street Journal, Twitter, Univision, Yahoo, YouTube.
The major networks and cable news channels will carry the town-hall style debate live, as they did for the first debate and Tuesday's vice presidential debate. 
Debate start time and format
The debate begins at 9 p.m. EST and will last 90 minutes. Unlike the first debate, Sunday's event will be a town-hall style dialogue between the candidates, moderators and members of the audience. Voters are also able to submit questions online for the moderators to pose to the candidates. CNN's Anderson Cooper and ABC's Martha Raddatz are the hosts of the debate. 
In 2012, the town-hall debate drew 65.6 million viewers. The first 2016 presidential debate drew 84 million watchers. 
Mic has ongoing presidential coverage. Please follow our main election hub as well as coverage of Donald Trump and Hillary Clinton.