7 Bright Eyes lyrics that prove we need Conor Oberst's political rage now more than ever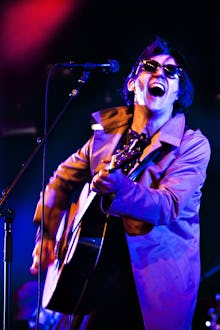 From 1998 to 2011, Conor Oberst's Bright Eyes was one of the reliable artists to turn to for a poetic political takedown. At their best, the group's music was like Rage Against the Machine for more contemplative nights in — yet Oberst's takedowns of political hypocrisy in the Bush administration and his appraisals of the toxic 9/11 political environment, were often just as potent.
The band has been on an unofficial hiatus since 2011's The People's Key, with Oberst focusing on his even more venomously political Desaparecidos project and his solo releases. Yet the band's music has continued to grow in stature. Facing the current exceedingly contentious U.S. election, their music's warnings about the dangers of intolerance, capitalism's inherent greed and infatuation with violence and war feel more urgent than ever.
"When the President Talks to God"
"When the president talks to God,
Oberst aims straight for the top, criticizing the Bush administration on every possible front. It slams the former president for the way he handled its wars abroad, its attitudes toward the black community and the way the administration seemingly encouraged post-9/11 Islamaphobia. Considering Islamaphobia may be even more vitriolic now than it was 15 years ago on 9/11, his satire is extremely cutting.
"Landlocked Blues"
"But greed is a bottomless pit
"Landlocked Blues," off 2004's I'm Wide Awake, blends the political with the personal to capture a bleary sense of difficulties navigating normal life in wartime. "We made love on the living room floor," Oberst sings in one haunting passage, applying the language relationships to the international conflicts of the day. "With the noise in the background of a televised war/ And in the deafening pleasure/ I thought I heard someone say/ 'If we walk away, they'll walk away.'"
"Let's Not Shit Ourselves (To Love and Be Loved)"
"Well ABC, NBC, CBS: Bullshit.
Legacy media takes the brunt of Oberst's barbs on "Let's Not Shit Ourselves (To Love and Be Loved)." Wailing their names, he criticizes each for the sensationalism of their reporting and constantly seeking new blood to lead their programs. "We're still paws in their game," he sings, before pointing out that dishonesty leaves us all lost. "We must stumble blindly forward, repeating history."
"Four Winds"
"Your class, your caste, your country, sect, your name or your tribe
"Four Winds" offers a grim, post-apocalyptic look at world in which we encourage our differences to divide people. The imagery is dark, sneering, anarchic, referencing Biblical figures of doom, such as "the whore of Babylon" and "Satan" himself. Yet it holds out hope for a force, capable of "knocking over fences, crossing property lines." Considering the wave of xenophobia spreading across the world, in many ways, we're still waiting.
"Road to Joy"
"So when you're asked to fight a war that's over nothing
"Road to Joy" is one Bright Eyes' most traditional protest anthems. It makes that strident call to action that many of their songs fall short of actually delivering, staying wound up in the confusion and chaos of the times. It's a brief moment of action in a catalog that often seems better fit to soundtrack silence.
"The Trees Get Wheeled Away"
"Anchormen spike their blood
With attacks on broadcast media, governments and religion, "The Trees Get Wheeled Away" is an underappreciated gem in the Bright Eyes' catalog. It sums all of it one of the major critiques of runaway capitalism and its tendency to turn individuals into dollars, cents and earning potentials. "Oh we got no health insurance," Obrest sings. "No cellular service/ No disease they can cure/ But we need more money to burn/ So each person must learn the dollar amount they are worth." 
"One for You, One for Me"
"One for the righteous
"One for You, One for Me" is the last track on the most recent and possibly final Bright Eyes album, 2011's The People's Key. There's a hardly a more fitting conclusion to their storied career in their entire catalog. The song is simple — a repeated frame offering a sort of toast to every character in the tragicomedy of life: "One for the Führer/ One for his child bride/ One for the wedding/ One for the suicide." It seems to offer one final plea for unity: We're all stuck in this world together, and we better make it work.