'Enchanted' sequel: Director Adam Shankman in talks to join the Amy Adams film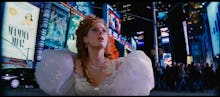 The long-awaited sequel to Disney's 2007 hit Enchanted seems to be close to locking in a director. According to a report from Variety, Disney is "in talks with" Adam Shankman to direct the follow-up, titled Disenchanted. Shankman is best known for his directorial work in Hairspray and Rock of Ages. In other words, he knows his musicals. 
Moreover, the lead of the 2007 film, Amy Adams, has expressed interest in returning to the franchise. Adams played the princess, Giselle, who was set to marry her Prince Charming (James Marsden) until she is swept away from her animated utopia into New York City. 
Per Variety, Disenchanted will take place 10 years after the events of Enchanted, where Adams' character is "questioning her happily ever after, and accidentally triggering events that make everyone's lives turn upside-down in both the real world and in the animated kingdom of Andalasia." 
Though neither Adams nor the rest of the original cast has confirmed returns, Disney hopes to begin shooting for the film as early as summer 2017, according to the Hollywood Reporter. Hopefully that gives Marsden enough time to clear his schedule so he can reprise his role as Prince Charming — continuing his, well, charming tradition of never getting the girl.