Anderson Cooper's salary, age, net worth, and other facts to know about the CNN anchor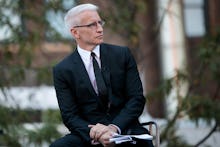 He's known as a silver fox, is the son of heiress Gloria Vanderbilt and was once a child model.  
But Anderson Cooper is so much more — having reported from the corners of the globe, including some of the most dangerous combat zones. And he's no stranger to hosting presidential debates.
The CNN host of Anderson Cooper 360 and correspondent for 60 Minutes II moderated the March 6 Democratic primary debate between Hillary Clinton and Bernie Sanders in Flint, Michigan.
Now he will take on Clinton and Donald Trump in the second presidential debate on Sunday night, along with co-moderator and chief global affairs correspondent for ABC News, Martha Raddatz.
Anderson Cooper started his journalism career in the early 1990s, working for Channel One and ABC News. But he really the national stage in 2001 when he became host of ABC's short-lived reality show The Mole. After the attacks of Sept. 11, 2001, Cooper joined CNN. In 2012, the Daily Beast estimated that Cooper's salary is $11 million. His precise net worth, however, isn't known.
Cooper, who turns 50 in June 2017, has been on a speaking tour this summer with Bravo TV's Andy Cohen. He is in a relationship with French night club owner Benjamin Maisani. The two were featured in a cover spread for Architectural Digest in August. 
Donald Trump has criticized Cooper for being biased and part of CNN, which the Republican nominee often calls the "Clinton network."
Cooper hinted that he will take a more hands-off approach to the debate, according to a Washington Post interview last week.
In the interview, Cooper said he respected legendary talk show host Phil Donahue. He cited a 1992 Democratic primary debate between Bill Clinton and Jerry Brown, moderated by Donahue who let the candidates go at it with each other.
"[NBC News correspondent and first presidential debate moderator] Lester Holt has been — some have criticized him for not being enough of a traffic cop, for not stopping Donald Trump from interrupting. I think there is a value in stepping back. You don't want it to be about you. You want it to be a discussion about the two, and if one is interrupting the other, that tells the audience something, and people can make up their own minds about what exactly that means. I'm not sure it's always good for the moderator to be stepping in and trying to direct and keep everything to time," Cooper said.
Mic has ongoing presidential coverage. Please follow our main election hub as well as coverage of Donald Trump and Hillary Clinton.