Hurricane Matthew sent to stop Orlando LGBT Pride celebration, says conservative columnist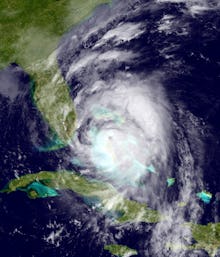 Hurricane Matthew is bringing lots of wind and rain to Florida this weekend, but columnist Andrew Bieszad is blowing most of the hot air. 
In a column for conservative website Shoebat, Bieszad shared what he believes is the reason why the storm is slated to hit Florida this weekend: gay people. 
"Florida is a nice place, but it unfortunately has become a lot like California, representing both the best and the worst that America has to offer," Bieszad wrote. "This is especially true in the area of homosexuality. While there are many conservative and religious Floridians, there are a tremendous amount of sodomites and immoral activity that takes place there."
He went on to bemoan the country's "moral decay" and lack of "Christian morality."
"Given the serious moral decay of America that we see taking place before our eyes and the increasing disrespect for even the most basic of Christian morality, looking at this storm I began to wonder if perhaps, in some way, it was connected to this crisis," he wrote. 
Hoping to bolster his thesis, Bieszad checked to see if anything particularly gay was happening in Florida this weekend. He discovered that Orlando was gearing up to host its LGBT Pride celebration — and deduced that this is what probably sparked God's rage.
"Sure enough, I found that both Orlando and Savannah are having massive sodomite pride parades this month, especially in Orlando, which is sponsoring this very weekend as the hurricane is about to hit a massive 'coming out' parade," he wrote. 
Bieszad's general homophobia aside here, he troublingly glides over the fact this will be Orlando's first LGBT pride celebration since the community endured the Pulse nightclub shooting in June, when shooter Omar Mateen killed 49 club-goers. 
Compassion for those who are grieving doesn't seem to fit Bieszad's theology, even though the beatitudes — a series of eight blessing from the Bible's Book of Matthew — clearly refer to those who mourn as "blessed." 
Rather than comforting those mourners, Bieszad instead concluded the hurricane was a "sign of His anger against us for our obstinate attitude towards sin and refusal to repent for our evil ways." 
Funny — experts are likely more inclined to say the hurricane is a rotating low-pressure weather system, not a moral judgment. But you do you, boo.