Martha Raddatz, her "Crooked Hillary" gaffe and other facts about the ABC journalist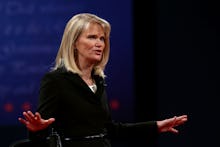 Martha Raddatz has reported from war zones dozens of times during her career. She even flew in an F15 fighter jet in two combat missions over Afghanistan.
But it's her political ties that are making news right now as the ABC News chief global correspondent gets ready to co-moderate the second presidential debate between Hillary Clinton and Donald Trump on Sunday night.
Raddatz took heat during the 2012 election when she moderated the vice presidential debate between Congressman Paul Ryan and Vice President Joe Biden. The Daily Caller reported President Barrack Obama had attended her first wedding back in 1991 and that Raddatz had a conflict of interest in presiding over the debate.
ABC News released a statement at the time denying any conflict of interest, according to Politico.
Martha Raddatz is known for her tough, fair reporting, which is why it was no surprise to her colleagues inside and outside ABC News that she was chosen by the Commission on Presidential Debates for this assignment," an ABC News representative wrote in a statement sent to POLITICO. "Barack Obama was a law school classmate of Raddatz's ex-husband Julius Genachowski at Harvard. At the time Barack Obama was a student and president of the Law Review. He attended their wedding over two decades ago along with nearly the entire Law Review, many of whom went on to successful careers including some in the Bush administration. Raddatz and Mr. Genachowski divorced in 1997 and both are now remarried.
Raddatz, 63, has been married three times. Her first husband was the son of famed Washington Post executive editor Ben Bradlee. She is now married to Tom Gjelten, a correspondent for NPR.
Now, as co-moderator of Sunday's debate with CNN's Anderson Cooper, Raddatz is being mocked again. She hosted ABC's "This Week" back in July and used the term "crooked Hillary" — a favorite moniker used by Trump.
Interviewing failed GOP candidate and former Sen. Rick Santorum, Raddatz asked about Clinton's email scandal, according to an ABC News transcript.
RADDATZ: Rick Santorum, two-time presidential candidate, and former Pennsylvania senator, who has endorsed Donald Trump is with us here in the studio.
Mic has ongoing presidential coverage. Please follow our main election hub as well as coverage of Donald Trump and Hillary Clinton.