'WWE 2K17' release date: Here's how to preorder and best features to be excited about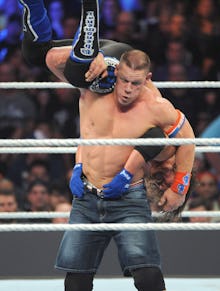 WWE 2K17 hits shelves Oct. 11, but wrestling fans will want to secure their copy with a preorder, which offers exclusive bonuses. Here's how to do it:
Head to the official 2K Games store and select your country, console and retailer. When your preorder purchase is complete, you'll unlock the following:
• World Championship Wrestling Goldberg (playable character)
• WWE Goldberg (playable character)
• WCW Monday Nitro (playable arena)
• Halloween Havoc (playable arena).
WWE 2K17 will offer several new features in addition to its revamped gameplay, which 2K promises will feel more like authentic simulation rather than previous arcade-style titles in the franchise. 
Backstage and crowd combat returns to the franchise in addition to updated Ladder and Taunt mechanics and a new secondary submission system. A new Highlight Replay system can record favorite clips from matches, and the Create a Video system can be used to design customized entrance videos. 
The brand-new Promo Engine lets "WWE Superstars express their thoughts and emotions to the WWE Universe and one another." This can affect the course of a player's MyCareer along with new backstage interviews that can shape the course of your WWE journey. And of course, the game will feature an expanded Superstar roster.
WWE 2K17 will be available on the PlayStation 3, PlayStation 4, Xbox 360 and Xbox One.