Hurricane Matthew South Carolina 2016: President Obama declares state of emergency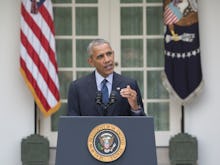 President Barack Obama has declared a state of emergency in South Carolina as Hurricane Matthew heads toward the United States, according to the Associated Press.
Earlier Thursday, Obama declared a state of emergency in Florida. Such declarations permit governmental agencies like FEMA to take care of evacuation procedures in the states. They're already mobilizing, according to a press release sent from the White House, "FEMA is staffing Incident Support Bases in Albany, Georgia and Fort Bragg, North Carolina, to pre-position resources closer to potentially affected areas, should affected states request them. Today there are more than 444,000 liters of water and more than 513,000 meals, as well as thousands of cots and blankets on site."
Hurricane Matthew has been projected to hit Georgia in addition to the two aforementioned states. Obama spoke with the governors of each of those states, plus Gov. Pat McCrory of North Carolina, ahead of the storm's approach.
According to previous reports, Hurricane Matthew is expected to reach South Carolina sometime either Friday or Saturday. The White House's release indicates they expect Matthew to hit Florida's east coast Thursday night.