Hurricane Matthew 2016 update: Death toll exceeds 800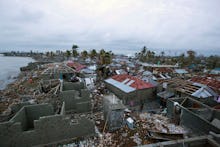 October 7, 2016, 1:59 p.m. Eastern: Reuters reported that the death toll has surpassed 800, according to local officials.
October 6, 2016, 9:12 p.m. Eastern: The Associated Press reported that the death toll has risen to 283, citing a Haitian Interior Ministry official.
Original story:
Haiti's civil protection service has updated the death toll in the wake of Hurricane Matthew to 264, according to CNN.
Previously, the country reported 108 deaths; Thursday night, multiple sources upgraded the number to somewhere in the high 200s. The Washington Post put the number closer to 300, but cited "government records." Meanwhile, the BBC confirmed the civil protection service's number.
Hurricane Matthew continues to make its way toward the United States, and is expected to hit Florida's east coast Thursday night. Both Florida and South Carolina have been declared under state of emergency by President Barack Obama.
This story is breaking and will be updated.