Colombian President Juan Manuel Santos just won the Nobel Peace Prize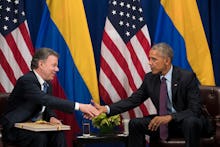 Colombian President Juan Manuel Santos was awarded the Nobel Peace Prize early Friday morning. 
The announcement comes as a surprise after a referendum in Colombia Sunday failed to ratify Santos' peace deal with the Revolutionary Armed Forces of Colombia rebel leaders: A meager 0.4% majority voted against it. 
The peace deal, which was negotiated over four years by the government and FARC, would have formally brought an end to the country's ongoing civil war.
The award was given to Santos "for his resolute efforts to bring the country's more than 50-year-long civil war to an end, a war that has cost the lives of at least 220,000 Colombians and displaced close to 6 million people," the Norwegian Nobel Committee said on its website. 
"The award should also be seen as a tribute to the Colombian people who, despite great hardships and abuses, have not given up hope of a just peace, and to all the parties who have contributed to the peace process," it added.
The FARC has said a ceasefire will continue despite the outcome of the referendum and that both parties will work towards achieving a peace deal the Colombian people are satisfied with. 
"Negotiations were painful, but I think the opposition [to the peace deal] want much tougher conditions," José Antonio Ocampo, who has served various ministerial positions in the Colombian government, said in a phone interview Monday. 
"The two issues that are most controversial are the [FARC's] penalties for crimes against humanity and, secondly, the FARC's political party and participation," Ocampo added. He is now a professor at Columbia's School of International and Public Affairs and, among a number of other roles, an expert committee of the United Nations Economic and Social Council. 
During the announcement Friday morning in Oslo, Norway, Norwegian Nobel Committee chairwoman Kaci Kullmann Five refuted the suggestion that awarding the prize to Santos was disrespectful of Colombian democracy, given the people's decision to vote against the peace deal.
"The people of Colombia did not say, 'no' to peace," she explained. "They said, 'no' to this particular deal ... This is extremely important to avoid that a civil war flares up again."
She refused to comment on whether the committee considered FARC leaders to be joint recipients of the Peace Prize. 
The announcement can be viewed here:
This story is breaking and will be updated.