Hurricane Matthew Livestream: Watch live footage of storms hitting the US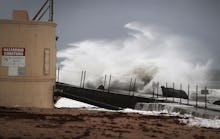 Hurricane Matthew has begun to bear down on the South Atlantic coast, with winds as fast as 120 miles per hour. It has already made its way through the Caribbean, claiming about 300 casualties in Haiti.
While the storm has been downgraded from Category 4 to 3, the eyewall — the periphery of the eye of the storm — is currently only a few miles away from the coast of Florida.
"This is serious," Florida Gov. Rick Scott said on Thursday while trying to urge residents in evacuation zones to relocate, the Washington Post reports. "This storm will kill you. Time is running out."
Here are a number of ways you can livestream the storm from various locations in the affected region. 
Port Saint Lucie, Florida
Surfline also has an assortment of live HD surf cams throughout Florida:
On Thursday, President Barack Obama declared a state of emergency in Florida, Georgia and South Carolina.
Over 2.5 million people in the region have been ordered to evacuate.