Hurricane Matthew and the 2016 election: how the storm could affect the vote in Florida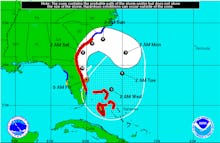 Hurricane Matthew is just beginning to make landfall along the eastern coast of Florida, but there's already no shortage of speculation about how the massive storm could affect the upcoming election in one of the country's most crucial battleground states.
With the National Weather Service warning that parts of Florida could be "uninhabitable for weeks or months" due to strong winds and massive storm surges, questions remain about what election officials will do in communities that could see the heaviest damage from the storm.
Of the most immediate concern is voter registration, which is already turning into a battle after Republican Gov. Rick Scott refused to extend the Oct. 11 registration deadline because of the storm.
"I'm not going to extend it," Scott, a Republican and chair of the main super PAC supporting Donald Trump, said on Thursday, according to the Miami Herald. "Everybody has had a lot of time to register. On top of that, we have lots of opportunities to vote: early voting, absentee voting, Election Day. So I don't intend to make any changes."
In 2012, about 50,000 voters registered in the last five days ahead of the deadline, according to Daniel Smith, a professor at the University of Florida who studies voting trends.
With Democrats currently leading in new registrations, Scott's refusal to extend the registration deadline could potentially cost Democratic nominee Hillary Clinton votes. Recent polls show Clinton with an average lead of about two percentage points over Trump in Florida.
Similarly, early vote-by-mail ballots are already being delivered and mailed back in to election officials.
If these ballots are lost to storm damage, it could complicate ballot counting next month – and raise problems if the race is close.
In 2012, for example, President Barack Obama won the state by less than a one-point margin — a total that amounted to just over 74,000 votes.
As of Friday morning, the storm moved further out to sea, sparing the southeastern coast of Florida from the damage weather reports initially predicted.
And as of press time, it was unclear whether the same would happen for the Jacksonville area of the state.
Aside from the logistics of the storm, the government's response to the possible damage could also play out in the final month of the race.
In 2012, President Barack Obama's response to Hurricane Sandy — which wreaked havoc in New York's tri-state area — was seen as an October Surprise that benefited Obama's image, thanks in large part to his close cooperation with Chris Christie, the Republican governor of New Jersey.
On the other hand, President George W. Bush's response to the devastation left by Hurricane Katrina in 2005 lowered his approval even further.