Hurricane Matthew death toll: Latest update on casualties from deadliest storm in years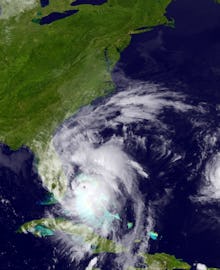 As Hurricane Matthew began to batter the southern Atlantic coast of the United States Friday, it left a wake of destruction in many Caribbean islands, where the storm hit first. The death toll is approaching 1,000, with casualties in the Dominican Republic, Haiti and St. Vincent and the Grenadines. One casualty in Florida has been reported thus far.
The death toll in Haiti alone exceeds 800, according to Reuters, with as many as 80% of the buildings in some cities destroyed.
Twenty-seven people in Haiti are injured, with three missing, according to Haitian officials. 
Approximately 28 million people will be impacted by this storm. Two-and-a-half million people along the U.S. east coast have been ordered to evacuate, with 1.5 million in Florida. 
"This is serious," Florida Gov. Rick Scott said Thursday while entreating residents in evacuation zones to move to safer ground and shelters, the Washington Post reports. "This storm will kill you. Time is running out."
Friday afternoon, almost 1 million people had lost power. 
Meteorologists warn the storm surge will be perhaps the most dangerous part of the hurricane with up to 11 feet of flooding. Twenty miles off the coast of Cape Canaveral, Florida — one of the worst impacted parts of the U.S. thus far, hit by winds of 115 miles per hour — a 17-foot wave built up.