Unemployment rises to 5%: Here's what that really means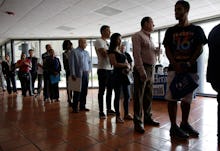 The United States economy added 156,000 jobs in September, according to the latest release from the Bureau of Labor Statistics, published Friday morning. 
That's slightly below the 172,000 jobs that economists polled by Marketwatch were expecting.
The unemployment rate also rose slightly, from 4.9% to 5%, which some suggested could prompt Republican presidential nominee Donald Trump to again criticize the current White House administration for its handle on the economy.
But higher unemployment can actually be a positive sign for one reason: It reflects more people seeking out jobs.
Indeed, the fact that more people feel confident about looking for work shows that the economy is bouncing back, however slowly, said Bankrate senior economic analyst Mark Hamrick. 
"I don't want to call it a Goldilocks economy," Hamrick said. "But slow and steady is acceptable. We don't want [the economy] to run out of steam. We don't want it to create bubbles that will create problems down the line."
And compared to September rates during other election years, this year's 5% actually looks pretty good: Back in 2012 it was 7.8% — and even in 1996 it was 5.2%.
Finally, as economist Justin Wolfers pointed out on Twitter, the running jobs "scorecard" still puts President Barack Obama far ahead of Presidents George H.W. and George W. Bush, with more than 10 million jobs created, versus less than 4 million — between the two of them.
"While job growth was slightly less than anticipated, key areas like labor force participation and wage growth ticked up," National Association of Federal Credit Unions chief economist Curt Long said in a statement. "The results keep the Fed on track to raise rates in December."
Long is referring to the federal funds rate, the interest rate that the Federal Reserve targets as a tool for increasing or decreasing borrowing costs across the U.S. economy — with the goal of keeping employment high and price inflation under control.
When rates are high, you'll pay more interest on home, car, and student loans — and credit card debt. But you will also earn more interest on your savings account.