What religion does Donald Trump practice — and how does it affect the campaign?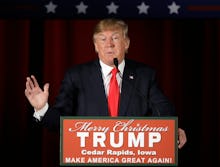 Since America's earliest beginnings, religion has played a central role in the country's political machinations — until now. 
During the 2016 presidential election, faith has taken an unprecedented backseat. Both major party candidates — Democratic nominee Hillary Clinton and Republican nominee Donald Trump — are widely viewed by Americans as being particularly unreligious.
According to analysis published by the Pew Research Center in January 2016, 43% of American voters believe that Clinton is not a religious person, and 60% of voters believe the same thing of Trump.
So, at what altar does Trump actually worship? And how does faith inform his campaign for the highest political office in the United States?
What is Donald Trump's religion?
According to the Huffington Post, Trump was raised in a Presbyterian household. Growing up, he and his siblings attended Marble Collegiate Church in Manhattan, New York, with their parents, listening to weekly sermons. As an adult, Trump was married to his first wife, Ivana, in the same church in 1977.
On the campaign trail for the presidency, however, Trump's relationship with religion has been a subject of much controversy. 
He famously flubbed a reading of a Bible verse at Liberty University in January, pronouncing "Second Corinthians" as "Two Corinthians."
At a campaign stop during his primary run, Trump enthusiastically proclaimed to a crowd of supporters that his favorite book was the Bible, followed only by his own book, The Art of the Deal.
While only Trump himself knows his true relationship with God, it's clear that religion does play at least some role in the Republican candidate's life — even if that role is only to generate good publicity.