Hurricane Matthew: Myrtle Beach, SC, in path of storm — what residents need to know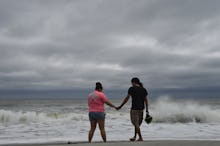 Hurricane Matthew, currently a Category 3 storm, is currently bearing down on the east coast of Florida. Soon, it will likely make its way up north to the coasts of Georgia and South Carolina, putting Myrtle Beach, South Carolina, in the projected path of the storm. 
According to an advisory released Friday by the National Hurricane Center in Miami, Matthew is "hugging" the central Florida coast, and is projected to slowly move northward and be "near or over" the coasts of Georgia and South Carolina on Saturday. 
According to the Myrtle Beach Sun News, both South Carolina Gov. Nikki Haley and President Barack Obama have declared a state of emergency for the South Carolina. The Sun News reported on Friday that recent predictions had Matthew dumping rain on much of the South Carolina coast. Flash floods are possible, and meteorologists are warning residents not to try to drive through flooded areas.
A total of about 1.1 million people are under evacuation orders in South Carolina, ABC News reported on Friday. Haley said the evacuations aimed to relocate everyone living within 100 miles of the coast, WCNC reported, and urged residents to "leave early" if possible. 
"As of right now, we're looking for Friday night into Saturday being pretty brutal," Haley reportedly said.
A list of school closures in South Carolina is available here and list of open emergency rooms in the Myrtle Beach area is available here.