Money stresses out single people more than married people, survey finds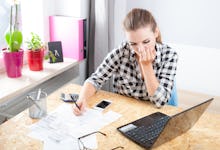 There are plenty of advantages to being single, but a new report suggests married people fare better when it comes to financial anxiety.
Single people are significantly more likely to report feeling "not at all" in control of their money, according to a survey of more than 2,600 Americans conducted in February by Harris Poll and Northwestern Mutual.
Overall, 38% of single respondents said they felt "not at all" financially secure — compared with just 23% of married men and women. 
Cohabiting couples were included in the "married" group for the purpose of the survey, said Rebekah Barsch, a VP of planning at Northwestern Mutual, in a phone interview with Mic.  
"Married is defined [here] as married or living with a partner, so even if they don't have a formal marriage partner that counts," Barsch said.
There's at least one simple reason for Northwestern's finding, Barsch said: If you're living alone, financial stakes tend to be higher. If you get hurt, for instance, or can't work for a while and don't have insurance — then you're really on your own. 
There are also emotional reasons you might feel more anxiety: Having someone trustworthy with whom you can discuss money is important, and talking with your parents doesn't always cut it.
"Financial struggles are something you talk over with your life partner," Barsch said. "Singles have their parents, but they also have their desire for independence."
For these reasons, Barsch said, singles have to be more self-reliant — which can make them feel "paralyzed" when it comes to making financial decisions. 
One solution? Barsch suggested bringing in a financial professional who works with young people.
"If a single person is more likely to go out and get some financial advice from a professional, they may get a better plan," she said. 
Now, some people are not able or willing to drop money on a financial advisor.
Simply taking steps to save sooner, rather than later, can make a big difference for young people, Barsch said.
The survey also found that women reported feeling more financial stress than men, whether single or married. (No surprise, perhaps, since women tend to earn lower salaries but live longer than men — putting even more pressure on retirement savings.)
While 29% of married men and 49% of single men said that felt "unhappy" with their financial situations, 34% of married women and 55% of single women said the same.
Single or not, women who feel significant financial anxiety might consider turning to one of the many resources with financial help tailored to women specifically.
October 7, 2016, 3:54 p.m.: This story has been updated.