Hurricane Matthew emergency preparation checklist: Supplies, tips and what you should know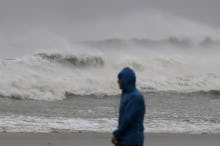 Though recently downgraded to Category 3, Hurricane Matthew is reportedly blasting Florida's eastern coast with winds as high as 107 miles per hour. Almost 600,000 people are without power in Florida, with Gov. Rick Scott saying the number was likely to increase in a Friday morning briefing. 
"The storm has only passed half our state, so this is not over," he said in a briefing, reported by the Washington Post. 
As Matthew continues to make its way up the eastern seaboard — likely toward Georgia and South Carolina — here's what you need to know about emergency preparedness.
Hurricane preparation checklist 
The American Red Cross recommends keeping the following items on hand in the event of an emergency or disaster:
•Water: one gallon per person, per day (3-day supply for evacuation, 2-week supply for home)
Be sure to purchase food that requires little to no refrigeration in case of power outages, such as canned foods and dry goods like cereals and granola bars. If you can, it's good to try and stockpile some ice so you have the option to freeze your water supply, or keep other perishables cold. 
Hurricane preparation tips and what you should know
President Barack Obama has declared a formal state of emergency in Florida, Georgia, and South Carolina — although the storm has been downgraded and wind speeds weakened overnight.
The first thing to do is figure out if there has been an evacuation warning issued for your area, and to identify the appropriate route: The White House recommends subscribing to emergency alerts. To find them, simply run an internet search for your town or county's name, followed by the word "alerts."
If you're not in an evacuation area and you've assembled the necessary supplies, it's best to wait the storm out. Avoid going outside for any reason. 
The storm is expected to remain in Florida for the rest of Friday and into Georgia by Friday night. It is then expected to move into South Carolina, and will be in North Carolina by Saturday afternoon or Sunday morning.