Protesting Alabama teen stands up to school official after he tried to deny her rights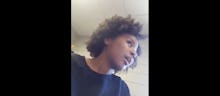 It's not every day that a student schools her educator, but this Alabama teen set the record straight with one school official over her right to protest anti-black violence, the Atlanta Black Star reported.
Gabby Bowie, a senior at Pleasant Grove High School in Pleasant Grove, Alabama, shared a Facebook video on Sept. 30 that she had recorded after being called to her assistant principal's office for wearing a sign that read, "'I was walking home' — Trayvon Martin" to school.
The sign was meant to highlight the killings of black men and women by police officers and vigilantes in the United States. In Bowie's video, the official can be heard demanding she take off the sign and claiming Martin's case is no longer relevant since it happened four years ago. 
Bowie didn't back down. She told the official it's still relevant today, because black men and women are still being killed. The official replied that George Zimmerman — the man charged and acquitted for killing Martin — was not a police officer. 
Bowie immediately shut him down by informing the official that Zimmerman was still a man of authority, since he was a neighborhood watchman.
The official also told Bowie that "all lives matter," which she quickly responded to by saying black lives would matter too, but they don't to some people.
The official then called Bowie's mother to explain that the sign might cause a distraction in school, and that he wouldn't have minded if Bowie had worn a T-shirt that had the same words. 
Bowie informed her mother that she had rights through the Supreme Court ruling of the case Tinker v. Des Moines Independent Community School District — which protected First Amendment rights for students at public schools — and could lawyer up against her school.
Bowie then asked why a white male student at the school was walking around with a Donald Trump sticker, but she couldn't wear her sign. 
"The law doesn't abide to people of color, but it applies to the guy with the Trump sticker, apparently," Bowie said. "So I gotcha. I'll take it off."
Big props to Bowie for initially resisting to remove her sign and standing up for her right to wear items of protest. Maybe in a few years we'll see her representing students over their basic First Amendment rights before the Supreme Court.