Can you watch the presidential debate online? What to know about about Sunday's debate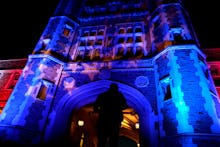 The second presidential debate will be a town-hall forum with two moderators, a presidential candidate riding high and another looking for his latest reset. 
Donald Trump and Hillary Clinton both have much to lose from poor performances in Sunday night's debate. Trump must reverse his downward trend in polling while Clinton could lose the lead she has grown nationwide. 
At 9 p.m. Eastern, the two presidential candidates will debate live from Washington University in St. Louis for 90 minutes. Here's how to watch online: 
Many media outlets and social media platforms will offer a live stream of the debate. These include: ABC News, Buzzfeed News, CBS News, CNN, C-SPAN, the Daily Caller, Facebook, Fox News, Hulu, Huffington Post, NBC, PBS, Politico, Telemundo, the Wall Street Journal, Twitter, Univision, Yahoo, YouTube.
For the first presidential debate and the vice presidential debate, live streams were easily accessible on YouTube and social media platforms. The first presidential face-off drew more than 84 million viewers across 13 channels, making it the most-watched debate of all-time. The second and third debates typically draw fewer viewers, but 2016 has been anything but typical so far. 
Mic has ongoing presidential coverage. Please follow our main election hub as well as coverage of Donald Trump and Hillary Clinton.