All but 2 governors and senators in the path of Hurricane Matthew are climate deniers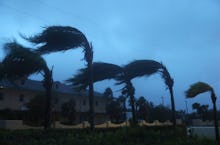 Hurricane Matthew is currently barreling up the United States southeastern seaboard, bringing with it sustained winds and coastal storm surges not seen in decades.
Yet despite the intensity of the storm and the potential damage it could wreak, the governors of the four states in Matthew's path — Florida, Georgia, South Carolina and North Carolina — have either denied climate change is real, or haven't spoken out about it at all.
To be sure, there is little evidence to suggest more hurricanes will form because of climate change.
But there is evidence to suggest that the intensity and potential damage caused by hurricanes could worsen due to the rising ocean temperatures.
Similarly, scientists are in almost universal agreement that climate change is happening, and it is caused in part by man-made activity.
But not the governors in the states impacted by the storm.
The biggest climate denier in the bunch is Florida Gov. Rick Scott, who not only denies climate change is real and man-made, but also banned government employees from using the words "global warming" or "climate change" in any official documents or communications on behalf of the state.
Republican Gov. Nathan Deal of Georgia, whose stretch of coastline is also at risk of severe damage from the storm, told an Atlanta NPR affiliate that while he believes the climate is changing, he doesn't know if it's man-made, and as such does not support legislation that would curb greenhouse gas emissions.
"It is an argument and a debate that will continue in this country and I have no reason to become engaged in it other than to say I'm the governor of this state. I'll try to protect the ratepayers on their utility bills and I'll try to make sure we remain competitive," Deal told the station in 2014, explaining why he opposed a carbon tax.
South Carolina Republican Gov. Nikki Haley — whose state could see the worst storm surge since Hurricane Hugo hit in 1989 — has been mum about whether she believes climate change is man made, according to Think Progress.
But she has said that utility companies should not be forced to lower their emissions or move to more sustainable energy.
"This is exactly what we don't need. This is exactly what hurts us," Haley said of regulations on emissions in 2014. "You can't mandate utility companies which, in turn, raises the cost of power. That's what's going to keep jobs away. That's what's going to keep companies away."
North Carolina GOP Gov. Pat McCrory said in 2008 that climate change isn't man made, but rather is "in God's hands," and has been a proponent of allowing more offshore drilling off the coast of his state — a major tourist destination and source of revenue in North Carolina.
Senators in the states impacted by Matthew have a slightly better record on climate change, but not by much.
Just two — Florida Democratic Sen. Bill Nelson and South Carolina Republican Sen. Lindsey Graham — say climate change is real.
Nelson has been an outspoken advocate of trying to stem climate change, saying rising sea levels will cripple Florida.
And Graham, while not in favor of many environmental protections, has admitted that climate change is real and has asked his fellow Republicans to stop denying it exists.
"To my friends on the right who deny the science, tell me why," Graham said last October during a conference hosted by No Labels, a group that seeks bipartisanship in government.
But other senators in the states impacted by Matthew don't hold the same belief.
During a presidential primary debate earlier this year, Florida Republican Sen. Marco Rubio denied climate change was real when asked a question about it by the Republican mayor of Miami.
"Sure the climate is changing, and one of the reasons is because the climate has always been changing," Rubio said at the debate, according to the Huffington Post. "There has never been a time when the climate was not changing."
The other Republican senators in the states impacted by Matthew — Sens. Johnny Isakson, David Perdue, Tim Scott, Thom Tillis and Richard Burr — all voted in 2015 against a measure that stated climate change is in part caused by human activities.