Latest 2016 Election Polls: Here's who's leading between Hillary Clinton and Donald Trump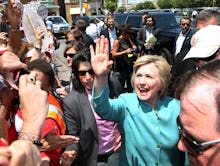 As we head into the second presidential debate, the polling narrative remains where it has been for about a week: Hillary Clinton has a solid lead, but Donald Trump is not done — yet.
Clinton's strong performance in the first debate, as measured by voter response, showed her growing leads on Trump in several swing states. Before the contest, he had been leading or within striking distance in key battleground states. 
Now, with GOP  leaders reportedly concerned about the impact Trump's poll numbers will have on down-ticket races, the Republican nominee faces intense pressure to deliver in Sunday night's debate. 
As support for Libertarian candidate Gary Johnson has dropped in recent polls, Clinton now holds a 3.5-percentage-point lead over Trump in the four-way race. In Colorado, Michigan, New Hampshire and Pennsylvania, Clinton's average lead over Trump has moved out of the polling margin of error. And Clinton has opened up a more than two-point lead over Trump in North Carolina.
With states leaning or solidly in Clinton's favor, RealClearPolitics projects she already has 237 electoral votes either locked up or leaning her way, compared to Trump's 165. Pure toss-up states account for 136 electoral votes — meaning Clinton has a number of plausible paths to the 270-electoral-votes threshold.
The takeaway: If Trump turns in another performance that is negatively viewed by voters, he will have little time to find yet another remarkable turnaround.
Mic has ongoing presidential coverage. Please follow our main election hub as well as coverage of Donald Trump and Hillary Clinton.