"Killer clown" videos are taking over social media — but law enforcement isn't laughing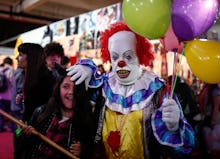 The unsettling and bizarre surge in "killer clown" sightings across the U.S. is either a terrifying trend or a sure sign of the coming clownpocalypse — and both are bad options. But it's getting hard to distinguish the genuinely threatening reports from the pranks and jokes — and law enforcement isn't laughing about it.
Clown sightings have been reported in the woods of South Carolina, where the clown hysteria seems to have started; in Ohio, where a teenage boy said he was chased by a knife-wielding clown at a bus stop; and in Pennsylvania, where a mob of college students "rioted" after a clown was allegedly spotted on the Penn State campus.
Just this week there has been a rash of new reports of clowns across the country, including in Detroit, where police investigated reports that people dressed as clowns attacked a seven-year-old boy on Tuesday, and in New York City, where a teenager reported being chased through a subway station by a clown with a knife.
Clown-spotting videos have also seemingly taken over social media, with Twitter accounts popping up to share questionably reliable photos and videos of alleged clown sightings across the U.S.
The social media frenzy around clown spotting as a new national pastime has caused some confusion, it seems, for law enforcement officials, who are forced to wade through the reports of killer clowns and separate fact from fiction. 
The police department in Rolla, Missouri, posted a long message on Facebook debunking reports of "creepy killer homicidal clowns" and asking residents not to dress up as clowns as a prank. 
"If you think it's a good idea to put on a clown mask there is nothing illegal about that," the Facebook post said. "Keep in mind that scared people do crazy things sometimes and there [is] the chance you may find yourself in a precarious situation. But don't worry, we will respond and investigate the assault."
Earlier this week, after Connecticut police responded to clown rumors that turned out to be false, state troopers released a statement on the State Police Facebook page about the seriousness of such hoaxes, the Associated Press reported. "There are many other emergencies and calls for service that troopers and other first responders need to get to without being misdirected to a prank," the statement said, adding that such pranks "can cause major disruptions leading to schools, businesses and neighborhoods being placed into lockdown unnecessarily."
Police departments in other parts of the world have weighed in on the clown phenomenon, as well. Police in Victoria, Australia, responded to a concerned citizen asking about the dangers of clowns with a stern message on its Facebook page on Friday. "The clown purge appears to be a copycat of incidents being seen in the U.S.," it said. "Any intimidating or threatening, as well as antisocial behaviors, will not be tolerated and will be investigated."
The now-widespread trend of clown sightings may be funny to some, but to many they're weird and unsettling — and to police, clown sightings are no joke.