Meteor shower tonight, October 2016: Time, best viewing spots and how to watch Draconid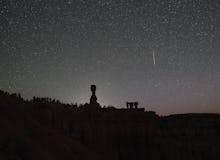 Friday will be a special evening for those lucky enough to catch a glimpse of the Draconid meteor shower. The annual event peaks on Oct. 7 and is one of the rare meteor showers that is best viewed after dusk, rather than just before dawn. Here's everything you need to know:
Draconid meteor shower time
The Draconids get their title from the Draco constellation, aptly named for its resemblance to a dragon. The star pattern is highest in the sky at dusk, making the moments just before sunset the ideal time to observe the meteor shower. Even as the sky goes dark, the meteors should remain visible until close to midnight. 
Draconid meteor shower: best viewing spots
Draco the Dragon is located in the northern skies, so areas within the northern hemisphere are best for watching the shower. The U.S., Canada, Europe and Northern Asia are all fair game. In terms of specific viewing spots, the typical advice for stargazing applies. Avoid urban areas full of light pollution. Open fields with few to no trees will give you the best window to the sky. Observing from a bright city won't necessarily prevent you from seeing the Draconids, but you'll have to strain your eyes a lot harder. 
Draconid meteor shower: how to watch
Even in ideal viewing conditions, one can always do with a little help to spot shooting stars. Space.com recommends the SkySafari 5 app, which can display the radiant location, or source, of the meteor shower. You can also use the app to locate the Draco constellation by holding your phone up to the sky, and you can read about the history of various constellations and comets while you wait for the meteors to appear. 
Instagram is also a great tool to view breathtaking photography of the shower. #Draconids in the explore tab should net some terrific shots once the show begins Friday evening.