The Afghanistan war is in its 15th year. Why aren't Clinton and Trump talking about it?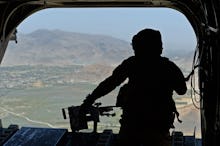 It's America's longest war.
For the past 15 years, U.S. troops have been fighting in Afghanistan. Just this week, 31-year-old Staff Sgt. Adam Thomas of Maryland was killed by an IED in Afghanistan.
Since the Sept. 11 attacks, more than 2,300 U.S. troops have died fighting in Afghanistan. But you don't hear much about the war in this presidential election.
While most Americans feel that the war is over, there are still 9,800 American forces deployed to Afghanistan today. But what's more troubling, and will become a tough issue for the next commander-in-chief, is that there are also now ISIS fighters there. 
During the first debate between Donald Trump and Hillary Clinton, Afghanistan was mentioned just once, by Clinton, but only in the context of defending the United States' NATO alliance.
"NATO as a military alliance has something called Article Five and basically says this: An attack on one is an attack on all. And do you know, the only time it's ever been invoked — after 9/11, when the 28 nations of NATO said that they would go to Afghanistan with us to fight terrorism," Clinton told Trump, who has attacked NATO repeatedly on the campaign trail.
Scant attention: In August, Afghanistan was in the headlines when Trump campaign spokeswoman Katrina Pierson called the war "Obama's war," though it began on Oct. 7, 2001, when George W. Bush was in office.
She later tried to blame the remark on a faulty microphone, telling the Texas Tribune that "malfunctions with her earpiece during an interview last weekend on CNN led her to jumble her words when she said President Barack Obama was responsible for the U.S. invasion of Afghanistan."
In a foreign policy speech a few weeks later in Ohio, Trump mentioned Afghanistan once, only to say that the Orlando nightclub shooter's father was from Afghanistan.
Then, during a Sept. 20 rally in North Carolina, Trump conjured Afghanistan when talking about crime in America.
"Honestly, places like Afghanistan are safer than our inner cities," he asserted.
Gun violence has plagued cities like Chicago and Baltimore, to be sure. But Afghans deal with violence every day, usually in the form of large explosions in crowded areas. On Aug. 25, gunmen stormed a university in Kabul; 13 people were killed and dozens more wounded.
Clinton's record: As secretary of state, Clinton visited Afghanistan several times. As a candidate for president, she rarely talks about the war that Obama officially ended in 2014 when he declared that the U.S. combat mission was over and ordered the majority of U.S. troops home.
Clinton gave a foreign policy speech on June 2 in San Diego, a major military town where many troops are still deploying to the war zone, and did not mention Afghanistan, according to a transcript.
At the American Legion's annual conference in Cincinnati in late August, both candidates gave speeches before a crowd of veterans.
Clinton pointed out that as secretary of state she helped bring U.S. troops home from Iraq and Afghanistan and touted her support of helping wounded veterans. In his speech, Trump did not mention Afghanistan at all.
"We're going to work very hard": At a Pentagon press conference, speaking by video from Afghanistan, the top U.S. commander was asked about the 15-year war and whether he felt enough progress was being made after all this time.
"Would I like to see fast progress? Of course. And we're going to work very hard and we continue to work very hard with them on this," said Gen. John Nicholson, according to a Defense Department transcript. "But I also see progress in the sense that we've drastically reduced our presence and they are willing and able to fight. They take casualties and they keep going back into the fight. And this is something money can't buy, is their willingness to take the fight to the enemy."
Whatever the future holds for Afghanistan, the next president will have to navigate how to bring America's longest war to its true end.