A love letter to San Francisco's best indie music fest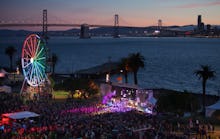 You really have to ride the Ferris wheel at least once during the annual Treasure Island Music Festival.
There you are, perched 60 feet above an island halfway between the city and the East Bay. It's absolute bliss to wheel through space as you look up to the darkening sky, out over the San Francisco skyline and down at the silent disco, the DIY maker camp, the food trucks and local vendors, the sea of indie music revelers, all while Panda Bear, Run the Jewels, FKA Twigs, TV on the Radio and so many other awesome artists provide a live soundtrack as you go up and over again.
If only it could last forever.
Alas, all things must pass, and so it is with the Treasure Island Music Festival. After this year's weekender on Oct. 15 and 16, TIMF will no longer take place on Treasure Island. Housing in the Bay Area has become squeezed to the point where a new development plan will fill this former naval base with a combined 8,000 new homes between Treasure Island and Yerba Buena Island. Due to the construction, TIMF's final go in its namesake location will occur on the opposite side of the island from its San Francisco-facing home of the last nine years. This year's festival grounds (which include a pier that'll hold the Ferris wheel and silent disco) will now look out on the Oakland skyline and Bay Bridge.
The festival has yet to announce where it will put down stakes for 2017 and beyond. "There are many factors to consider, but the intimate scale of the event and the overall onsite experience are really what makes TIMF unique," said Noise Pop founder and TIMF head event producer Kevin Arnold via email. "We look forward to bringing that to a new spot next year." For this final show in its current home, Ice Cube, Sigur Rós, James Blake, Zhu, Mac DeMarco and two dozen other acts will help the festival bid farewell to the island. Before TIMF walks the plank, it's important to understand what this signature event has meant for San Francisco.
"Beautifully surreal." Much like the founding story behind Treasure Island itself, which was built in 1936 onto the existing Yerba Buena Island using gold-studded fill dirt, TIMF filled the local music scene with a golden opportunity: the chance to spend the weekend looking back at the city we're normally crowded into, enjoying headliner-worthy attractions without the headache-inducing scale of other festivals. It's a communal environment that's hospitable to San Francisco's multiple subcultures, from the live music and DJ scenes to the maker movement and Burning Man cohort (dig the luminous Billion Jelly Bloom mega-puppets lighting up the crowds as they dance through).
TIMF launched in 2007 as a collaboration between local promoters Noise Pop and Another Planet Entertainment, who wanted to flip the script on the typical outdoor music festival. This one would be built from the ground up and infused with local flavor. It would eschew the standard amphitheater setting and vendors and keep the attendance numbers reasonable.
"It's all about the setting," Arnold said, "being able to create an experience to highlight this generally unknown gem in the middle of the Bay (that once hosted the World's Fair), with the most amazing views of the city, Oakland and the Bay."
Compared to Outside Lands, San Francisco's massive, multi-stage summer weekend festival in Golden Gate Park, TIMF has only two easily navigable stages, a crowd limit of 15,000 and non-overlapping, FOMO-free set times. The relatively intimate environment encourages a warm camaraderie among temporary islanders. You can watch Four Tet perform a set and then, an hour later, find yourself talking about it with Kieran Hebden (his off-stage persona) in the crowd.
TIMF has become the Bay Area's coolest urban music experience — for bands and fans alike. "Having been a Treasure Island Music Festival attendee since its inception, performing there in 2014 was a beautifully surreal experience," says Johnny Hwin of electro-pop duo Cathedrals. "As Bay Area natives, there's nothing like playing in front of your hometown crowd at a festival you grew up with. TIMF is truly one of a kind."
Tycho's Scott Hansen, one of this year's headliners and a past TIMF favorite, says the festival setting creates a uniquely chill atmosphere. "I think the crowd is shaped by the location, and they always end up being great music fans," he says. "I remember playing the Tunnel Stage in 2012 at night with the entire skyline of San Francisco lit up behind us."
The familiarity of being on this island festival together isn't just a draw for fans; it's also a highlight for the performers. Gregg Gillis, who performs as Girl Talk and previously headlined TIMF, appreciates the controlled chaos that the mid-size festival invites. "The barrier between the stage and crowd was small enough to give a somewhat intimate feel despite there being so many people there," said Gillis, who recalled crowd-surfing during a set by electronic wizard Dan Deacon. "It was sweaty."
Falling in love under the DIY tent. Many of the big cool-kid-household names of the last decade have played Treasure Island: Beach House, LCD Soundsystem, M.I.A., The National, Outkast, Justice, The Flaming Lips, and Public Enemy, to name just a few. But despite the marquee acts, TIMF never panders to the masses. "Every year there are at least three Treasure Island bands that I fall in love with two years later," says Kelly Malone, co-founder of the DIY school and events brand Workshop, which hosts popular theme camps at TIMF. "They're good at being ahead of the curve."
Workshop is among the esteemed local institutions invited by TIMF to set up tents and curate part of the weekend experience. Silent Frisco's silent disco —  where you can groove to beats fed into your wireless headphones by local underground DJs — and Workshop's Camp DIY — where you can craft and chill with some make-your-own terrariums and silk-screen koozies — have become integral parts of the festival, offering revelers the chance to let loose in unconventional, yet very San Francisco, environments.
For Camp DIY, Malone and crew create immersive sets. Everything from the hand-built and thrifted furniture to the hand-painted signs and multiple crafts aligns along a visual theme, such as space exploration or the cult film Wet Hot American Summer. The tent has grown in popularity to the point where many attendees spend much of their weekend there. This year's Camp DIY will feature '80s teen bedroom sets inspired by the Netflix series Stranger Things.
For this year's festival, the main event at Camp DIY will be a public declaration of love: the wedding of Malone and her beloved, Dan Martin, right there in the Workshop tent, right in the middle of the festival she adores. The ceremony will be witnessed by friends and random music fans just before Sigur Rós (Martin's favorite band, says Malone) kicks off its headlining set Sunday night.
"Since it's the last year on the island, we thought it'd be a great opportunity to take that special vibe of the festival and our tent and just do something really cool," Malone said. "Something that we could share with all our friends."
It's a fitting tribute to a festival — and a place — that will always be close to San Francisco's heart, even after it leaves the island.
Oct. 14, 2016, 10:52 a.m.: This story has been updated.