Bruno Mars' "24K Magic" is essentially "Uptown Funk 2" — for better or worse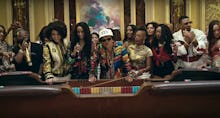 Bruno Mars and Mark Ronson struck gold with their 2014 hit "Uptown Funk." The song's slick disco and punchy, call-and-response verses kept the song at No. 1 on the Billboard charts for 14 weeks, a span just shy of the all-time 16-week record held by Mariah Carey and Boyz II Men's "One Sweet Day." So when it came time for Mars to cut his first single in about four years, the decision was likely easy: Let's take it from the top.
Mars' "24K Magic," released late Thursday, is adorned with much of the same swagger as Ronson's "Uptown Funk" — from the posse vocals that punch in and out of the verse ("Keep up"), to the throwback drum samples, to the cheeky synchronized dance moves Mars and his crew whip up for the video, also released Thursday. Hey, if it ain't broke...
The track largely works, despite a few extraordinarily corny lines ("hashtag blessed"), thanks to a solid synth line and Mars' charismatic delivery. It takes some bravery to earnestly describe yourself as a "head-to-toe soul player" and earnestly sing "put yo' pinky rings up to the moon" and expect people to sing along with you — but many are. 
The whole performance may be James Brown-light, but there's at least a little soul. 
Mars also shared details about his upcoming LP, also titled 24K Magic, slated for a Nov. 18 release. It looks like he does have some surprises in store: The dangerous man with money in his pocket has reportedly been collaborating with EDM's hot boy Skrillex.
"I'm not going to give specifics of what it sounds like," Skrillex told Billboard in June of their upcoming collaboration, "but what we're doing is so fucking different, awesome and next-level and sounds like nothing else that's happened before."
Mars' first single is hardly that. But it is the kind of shrewd business decision that any artist who's trying to keep "wearing Cuban links" and "designer minks" would make. It's pop's golden rule: Give the people what they want to hear, even if they've already heard it.