University of Ghana to remove statue of Gandhi, who was racist against black people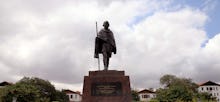 Contrary to popular belief, Mahatma Gandhi wasn't always about peace and love. The world-renowned face of the non-violent Indian independence movement also believed in racial segregation in South Africa and that Indians were superior to black people. 
Now, TIME reports that a statue of Gandhi will be removed from the University of Ghana's campus after students protested and a petition with over 1,700 signatories demanded its removal. 
The petition, addressed to members of the University of Ghana council, listed six racist quotes and excerpts from Gandhi's collected works.
One of the quotes included a letter Gandhi sent to former Prime Minister of England Neville Chamberlain in May 1899, claiming that Indians were superior to "kaffirs," an ethnic slur for black South Africans. Ironically, Gandhi was living in South Africa to fight anti-Indian discrimination at the time. 
"Your Petitioner has seen the Location intended to be used by the Indians. It would place them, who are undoubtedly infinitely superior to the Kaffirs, in close proximity to the latter," Gandhi complained.
The petition also said the University of Ghana has no statues of black African heroes on campus. 
"Why should we uplift other people's 'heroes' at an African university when we haven't lifted up our own?" it read. "We consider this to be a slap in the face that undermines our struggles for autonomy, recognition and respect." 
Ghana's Ministry of Foreign Affairs issued a statement explaining they will be relocating the statue "to ensure its safety." The statement claimed students were engaging in a "verbal attack" on Gandhi. 
"The unfortunate verbal attack on Mahatma Gandhi is effectively an attack on an Indian Nationalist Hero and icon who is revered and cherished by over one billion people who are either citizens of India or persons of Indian decent," the statement said. 
The Gandhi statue was given to the oldest university in Ghana by Indian President Pranab Mukherjee in June to "symbolize friendship between the two countries." 
Despite Gandhi's influence in the Indian independence movement, Indian writers today, notably Arundhati Roy, still have serious reservations about the anti-colonial activist's racial politics and alleged embrace of India's caste system. 
"The story of Gandhi that we have been told, is a lie," Roy said in a July 2014 speech she gave at the University of Kerala, according to the Hindu. "It is time to unveil a few truths, about a person whose doctrine of nonviolence was based on the acceptance of a most brutal social hierarchy ever known, the caste system."