Detroit grandma gets very real with Flint crisis, police shooting-themed Halloween decor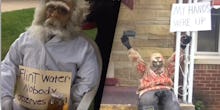 A Detroit woman has decided there's one thing scarier than any ghost, ghoul or monster this Halloween: the reality of being a black person in America. 
Larethia Haddon, a grandmother, decorated her front lawn with a horrifying tableau depicting the inequalities and injustices black Americans face, including police brutality and references to the Flint water crisis, according to MLive.
The display includes a person who's been shot in the head with a sign that reads "carjacked," and another holding a jar with brown water that reads, "Flint water nobody deserves."
"We're trying to do something positive instead of just having a dead body laying in the yard," she told MLive. "We want to get people to be a little more focused on the issues, what's going on in the world. We need to stick together more. We need to come together. And if we don't, this scene in my yard is going to be reality every single day." 
Haddon said her granddaughters came up the with the idea for the display, which she sets up every morning at 9 a.m. and puts away as the sun goes down. 
"We're not afraid of monsters or the boogeyman," they told her, according to MLive. "We're afraid of what's going on in the world right now."
The manmade Flint water crisis, which gained national attention in January 2016, took place in a city that is almost 60% black. Residents were told their tap water was safe to drink, even though it contained alarmingly high levels of lead. 
The United States is also in the middle of a police brutality epidemic that has functionally deemed 
Those mundane actions play into Haddon's display, which she hopes will do more than just shock people, she told MLive. She hopes it can jumpstart some critical thinking about racism in America.
Watch MLive's video report below: