Donald Trump still believes the Central Park 5 are guilty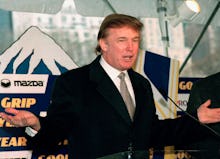 Republican nominee Donald Trump just inexplicably reaffirmed his belief that the Central Park Five, a group of young men wrongly convicted for the 1989 rape and assault of a jogger in Central Park, are guilty.
"They admitted they were guilty," Trump said in a statement to CNN this week. "The police doing the original investigation say they were guilty. The fact that that case was settled with so much evidence against them is outrageous. And the woman, so badly injured, will never be the same."
In 2002, the men — Antron McCray, Kevin Richardson, Yusef Salaam, Kharey Wise and Raymond Santana Jr. — were exonerated after DNA and additional evidence found that the perpetrator of the rape was a convicted rapist named Matias Reyes, according to the New York Times. However, their exoneration didn't occur until after four of the men had served roughly seven years in jail. The fifth man, Kharey Wise, served 13 years.
In order to get their confessions, the five young men were held and interrogated by police for up to 30 hours, according to the New York Times, during which the men say they were deprived of sleep and food. It was later found that the case had risk factors for coercion, resulting in false confessions.
But Trump is still maintaining their guilt, even after the Central Park Five were awarded a $41 million settlement for their wrongful imprisonment.
The "Central Park jogger" case shook the country when five teens aged 14 to 16 were arrested in the rape and beating of 28-year-old investment banker Trisha Meili.
The case was called "one of the most widely publicized crimes of the 1980s," according to the Times. When it happened, Trump took out full-page advertisements with huge letters reading, "Bring back the death penalty. Bring back our police!"
"He was the firestarter," Salaam told the Guardian about Trump back in February. "Common citizens were being manipulated and swayed into believing that we were guilty."
But at least one of the five men, Raymond Santana Jr., is done listening to what Trump thinks.