Hurricane Matthew 2016 updates: Shocking videos from Florida show extent of flooding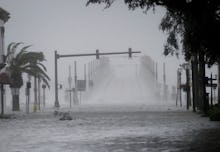 As Hurricane Matthew continues to wreak havoc on Florida, the state's coastal towns are already seeing the effects of flooding caused by the massive storm surge.
In videos posted to social media, brave civilians capture the destruction caused when rising sea levels send water spilling onto roadways, into homes and over parked cars.
One video captured by Action News reporter Russell Colburn reportedly shows a handful of people trapped in a St. Augustine, Florida, bed-and-breakfast as fast-moving water courses through the thoroughfare outside their front door.
Another video posted by Colburn shows waves crashing over the town's sea wall, flooding the grassy patch beside it.
Another video reportedly taken in Daytona, Florida, shows downed telephone poles and residents standing in floodwaters at least ankle-deep.
As Matthew continues to ravage the eastern seaboard, more footage of the destruction is likely to emerge in its wake.