The Weeknd's 'Starboy': New album release date, track list collaborators and more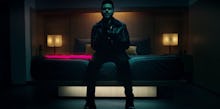 In September, the Weeknd wiped his social media slate clean, deleting everything on his Instagram. Fans knew exactly what that meant: It was the start of a new chapter in the artist's career, though few fans likely foresaw how much was about to change. 
A few days later, he announced his album, Starboy, due out Nov. 25, and shared his new look. One thing was missing: his signature dreads.
Abel Tesfaye, the man behind the Weeknd, has a lot more heat to share. He's rolled out two singles off the album so far: the titular "Starboy" and electro punk "False Alarm." They offer a sample of the wide sonic palette the Weeknd is looking to draw from for his upcoming album. To hear it from the artist, he's aiming to go a whole lot deeper.
"There are new inspirations on this album," the Weeknd told VMan. "The production feels aggressive but still sexy. The Smiths, Bad Brains, Talking Heads, Prince and DeBarge play roles. We wrote it all in Los Angeles. I think it'll be the best-sounding album I've ever done. It's hard to label the sound because, when I first came out, nobody would label it R&B. I just want to keep pushing the envelope without it feeling forced."
The Weeknd's going to have to be careful, though. To draw a metaphor from the visual arts world: You mix too many colors indiscriminately, and you're going to end up with mud.
Collaborators
With "Starboy," fans got to hear the first great featured artist: the elusive Daft Punk. The group handled much of the song's production, which stacks layers of synths over a chirping drum loop. The robotic French duo have been laying low since their album Random Access Memories dropped three years ago, but seem to be using this moment to emerge into the spotlight. Rumors continue to swirl that a world tour is imminent.
Besides the robots, Justin Timberlake may find himself with a spot. "[The Weeknd] and I have been talking about doing a collab," the star told BBC Radio. "He's working on an album right now. I don't know if I was supposed to say that."
On the production front, the Weeknd is reconnecting with the team that helped him build his debut, House of Balloons, which dropped jaws across the R&B world upon its release in 2011. 
"But it's a new thing," Tesfaye told Vogue. "Always a new thing."
Track list
As of now, there is no official track list for the Weeknd's album, but an album placeholder is already up on Apple Music. The album will span 18 tracks, with the first two singles appearing as the first and third tracks.
For his forthcoming songs, the artist plans to talk about his relationship with religion and go deeper into some experiences from his "crazy and materialistic life."
"I've been very intrigued by the film Amadeus," he told VMan. "I'll touch on my relationship with religion a little bit and how it ties into my crazy and materialistic life. I'll touch base on some recent experiences and past experiences that didn't make the last album."
Considering the majority of his lyrics thus far have been about drug-addled orgies and pill binges, it will be very interesting to hear the star explain how God plays into it all.