Obama just signed a bill establishing the rights of sexual assault survivors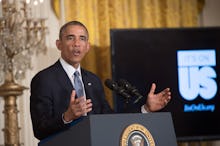 On Friday, President Barack Obama made history by signing the first piece of federal legislation establishing the rights of sexual assault survivors specifically.
The Sexual Assault Survivors' Rights Act, a bill introduced by U.S. Senator Jeanne Shaheen (D-N.H.) on Feb. 23 and passed by Congress on Sept. 28, marks the first time sexual assault survivors are granted the opportunity to enforce their rights in federal court. 
This is also the first time in U.S. history that the term "sexual assault survivors" has been used in federal legislation, Shaheen's communications director, Ryan Nickel, said in a phone interview.
Shaheen was inspired to introduce the bill by 24-year-old Amanda Nguyen, a sexual assault survivor who shared her experience of the grueling process of reporting a sexual assault. 
"When you hear about Amanda's experience, you can see why nearly 70% of survivors don't report their rape or decide not to press charges," Shaheen wrote in a Medium post on April 29. "This has to change."
In addition to Nguyen, Shaheen teamed up with several other sexual violence advocacy groups including the Rape, Abuse & Incest National Network, the National Alliance to End Sexual Violence, the International Association of Forensic Nurses and the New Hampshire Coalition Against Domestic and Sexual Violence, among many others.
Since the bill is now signed into law, sexual assault survivors are granted the right to have rape kits preserved without cost during the entire statute of limitations. Survivors now must be notified in writing within 60 days prior to the destruction of a rape kit, and they also have the right to request an extension for their rape kit's preservation. According to Nickel, survivors will also be granted the right to be informed of any relevant and important results of their forensic examination of their results and also not to be charged for the exam.
"Sexual assault remains one of the most underreported crimes and I hope that these basic rights will encourage more survivors to come forward and pursue justice," Shaheen said in a statement released Friday. "Make no mistake, there's still much more work to be done to change the culture around sexual assault, and I will continue to lead efforts in the Senate for survivors like Amanda."