iPhone 7 Activation Problem: Why are Apple's new phones locking users out?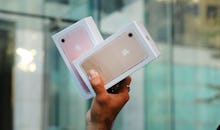 Numerous Apple customers are reportedly experiencing a strange glitch on the heels of the iPhone 7 release. And the new models aren't the only devices affected: iPhone 6s users are encountering the error too. 
According to MacRumors, a number of iPhone users are having issues with the activation process while setting up their new devices. iPhones fresh out the box contain an "activation lock," which prevents users from signing in with their Apple IDs and proceeding with the iPhone's set-up. Even more perplexing: These iPhones are already linked to Apple IDs that do not belong to the purchasers. 
"Just received my brand-new 256 GB jet black iPhone 7 Plus," a MacRumors reader wrote in the discussion forum. "Looks immaculate, screen is perfect, machining all fine... Only problem is, it appears someone has already used it, as the iPhone is asking for the account used to activate it — o.....@icloud.com. Apple say[s] it needs replacing. ... Now got to wait for an expedited replacement iPhone once I've returned this one."
It's not uncommon for new gadgets to experience software issues, but similar Apple ID errors have occurred on the iPhone 6s as well.
"I purchased an iPhone 6s full-price and outright directly from an Apple Store in September 2015," another MacRumors reader wrote. "The phone was unlocked (I switched from T-Mobile to Verizon after I purchased it without issue). I recently purchased an iPhone 7 Plus and after that phone was activated on Verizon's network, the iPhone 6s now indicates that it has an 'activation lock.' It is also linked to some unknown iCloud account (not the account I activated it with or have been using it with for close to a full year)."
It's unclear why these iPhones are locking out customers, or how the devices were assigned with other Apple IDs. Apple has yet to respond to Mic's request for comment.
Those experiencing similar problems should schedule a Genius Bar appointment at your local Apple Store or call Apple's support team at 1-800-MY-APPLE.