Netflix's 'The Defenders': Cast, release date and what to expect from upcoming series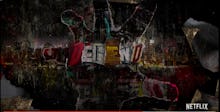 Do you miss the camaraderie of The Avengers but want less giant sky beams and more — heaven forbid — actual plot? Thankfully, Netflix has you covered, as its slate of Marvel shows are all funneling into The Defenders. This new series will follow an Avengers-esque team based in New York City. 
It's an intriguing, ambitious and exciting project for Netflix — but what should we expect from The Defenders? And when is this all happening? 
The Defenders are comprised of four superheroes, three of which have already had their own Netflix series: Daredevil, Jessica Jones and Luke Cage. The fourth hero, Iron Fist, will have his own series coming to the streaming service in March 2017. The Defenders will be coming later in the year, though no release date is currently set. 
Joining them will be fan favorite from Luke Cage Misty Knight. Simone Missick confirmed that she'll be returning on-screen for the series during an interview with the Wrap. 
The other two characters — though at this point, it's speculation, since nothing is officially confirmed — will likely be Claire Temple and Stick. Temple has essentially acted as the Nick Fury equivalent for the members of The Defenders, already appearing in Daredevil, Jessica Jones and Luke Cage. A not-so-subtle easter egg in the season finale of Luke Cage strongly hints that she'll make some kind of appearance in Iron Fist, too. 
Stick, aka Daredevil's shady mentor whose allegiances are still murky, is poised to show up in The Defenders as well. In a teaser trailer for the series shown this year at San Diego Comic-Con, the character has the only line of dialogue (no footage for the show is shown, either). 
"You think the four of you can save New York?" Stick says in a voiceover during the trailer. "You can't even save yourselves."