Here's how to submit questions for the second presidential debate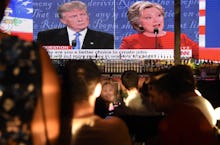 What would you ask Hillary Clinton or Donald Trump if you could?
The Open Debate Coalition wants to know and the top questions may be asked by an audience member at the second presidential debate on Sunday night in St. Louis.
So far, more than 2.5 million people have voted on the coalition's website, PresdientialOpenQuestions.com. The top two questions so far are about gun control.
The third most popular question is about expanding Social Security. Interestingly, in an election where there is a vacant seat on the Supreme Court, voters want to know if the candidates would support term limits for Congress and Supreme Court justices.
Some of the other top questions are about climate change, health care, Citizens United, education reform, LGBT rights and internet privacy. There's also a question about tax reform for the nation's most wealthy citizens.
The Open Debate Coalition was created in 2008 to help bring the voices of everyday voters to the presidential debates. It was backed by several high-profile people:
Wikipedia co-founder Jimmy Wales, Craigslist founder Craig Newmark, Progressive Change Campaign Committee co-founder Adam Green, Grover Norquist, Arianna Huffington, Cindy Cohn, executive director of the Electronic Frontier Foundation, Aaron Swartz, the National Organization for Women, the Sierra Club, RedState, DailyKos, Instapundit, MoveOn, ColorOfChange, and the former digital directors for the Republican National Committee, Senate Republicans, and George W. Bush.
Both Barack Obama and John McCain supported the mission of the coalition which is to encourage voter participation in the debates, and the major news networks agreed to use it to cultivate questions from voters in future debates.
Sunday night's debate will include a mixture of questions culled from the coalition site and social media and questions from the debate moderators, veteran journalists CNN's Anderson Cooper and ABC News' Martha Raddatz.
This story has been updated.
Mic has ongoing presidential coverage. Please follow our main election hub as well as coverage of Donald Trump and Hillary Clinton.