When is 'Portlandia' coming back? Season 7 premier date, trailer, clips and more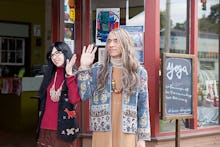 IFC's Emmy award-winning sketch comedy, Portlandia, will return for its seventh season in January. The show, which stars co-creators Fred Armisen and Carrie Brownstein, has developed a cult following over the years for its comedic parodying of hipster culture Portland, Oregon. 
However, not everyone is excited for the return of the show. In Other Words, a feminist bookstore in Portland that served as the inspiration for, and the filming location of, the show's fictional bookstore in the show, cut ties with the series late last month, as Mic previously reported. The bookstore's staff had a number of grievances with the show including a lack of diversity and representation, as they noted in a blog post on the store's website.
Still, the show plans to continue as planned — just maybe with less bookstore scenes. 
Portlandia season 7 premiere date
The series makes it official return to television screens on Thursday, Jan. 5 at 10 p.m. for a 10-episode season. This means you have around three months to pickle everything in sight in anticipation of the premiere. 
Portlandia season 7 trailer and clips
Armisen and Brownstein are definitely not holding back this season. First up for comedic skewering? Men's rights activists. In a clip of the show, the two comedians play two men who are upset that none of the major social movements currently taking place in the U.S. are about them.
"Men need safe spaces too," Brownstein says in the clip before adding that Reddit is one of the places where men can actually speak freely. 
The duo then lament how every Hollywood remake will only star women and how one day their children will never know what it's like to have a white male President. Check out the clip below: