Who is Donald Trump talking about in leaked video? "Days of Our Lives" star Arianne Zucker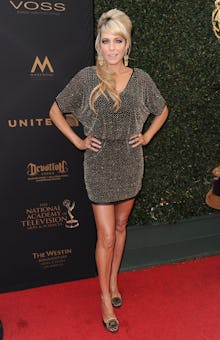 Donald Trump was caught on tape making crude, demeaning and crass comments about women in 2005. The highlight quote already taking the news cycle by storm is the Republican presidential candidate's instruction to "grab them by the pussy," referring to how to treat women.
But later in the tape, Trump and former Access Hollywood star Billy Bush see an actress from the Days of Our Lives cast. According to the Washington Post, Trump and Bush's conversation was recorded on the set of that soap opera. (Trump appeared on the show in October 2015.)
The star in question is Arianne Zucker, who has played Nicole Walker on Days for over 1,500 episodes, according to IMDb. The actress' tenure on the show started in 1998 and continues this year.
On the tape, Bush says, apparently referring to Zucker, "Your girl's hot as shit." Trump then exclaims "Whoa" upon seeing her, and says he should eat some Tic Tacs.
"I've gotta use some Tic Tacs, just in case I start kissing her," Trump says on the tape. "You know I'm automatically attracted to beautiful — I just start kissing them. It's like a magnet. Just kiss. I don't even wait."
Perhaps not surprisingly, Zucker has not tweeted any response to the tape. Meanwhile, Trump offered up a non-apology, and Bush deleted his account.